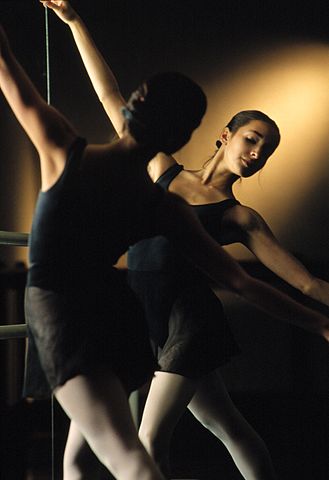 New English Ballet Theatre is a new company formed by director, choreographer and dancer Karen Pilkington-Miksa for recent graduates of dance training programmes in 2010, hiring dancers for a period of 3 months and commissioning new works for an annual programme. The company offers 20 young dancers an opportunity to tour their ballet shoes professionally and to work with established choreographers including English National Ballet's former Artistic Director Wayne Eagling, Birmingham Royal Ballet's Michael Corder and English National Ballet's emerging choreographer Jenna Lee.
Of the 200 young dancers graduating from ballet schools every year, only four are selected by main companies; New English Ballet Theatre provides dancers at the start of their career the chance to dance principal roles, be they tutu-clad or tunic-and-tights. In their recent programme Synergies at the Peacock Theatre, 4 of the 9 contributing choreographers to the repertoire were female, which is a rare occurrence. Having the opportunity to choreograph, for both males and females, is a promising signal that the arts are continuing to flourish and succeed, especially considering the loss of Arts Council funding by so many dance organisations.
New English Ballet Theatre itself has no funding, but boasts a patron list that includes Carlos Acosta, Marianela Nuñez, Mara Galeazzi, Darcey Bussell and Wayne Eagling, in addition to support from Sadler's Wells as a platform which is celebrated internationally. The company champions young dancers, choreographers and designers in a huge showcasing of talent and innovative work in its first year of project-based work. With dancers who have trained at esteemed dance training schools and conservatoires such as the Rambert School, London Studio Centre, English National Ballet School and the Conservatorio Professional de Danzxa in Seville, New English Ballet Theatre aims to give emerging young artists a full professional experience rather than touring within a school environment, such as Ballet Central or Ballet West. Through the company's environment, the dancers are keen to bring classical styles to a much wider and less conservative audience as those involved try new things and experiment for the dance world.