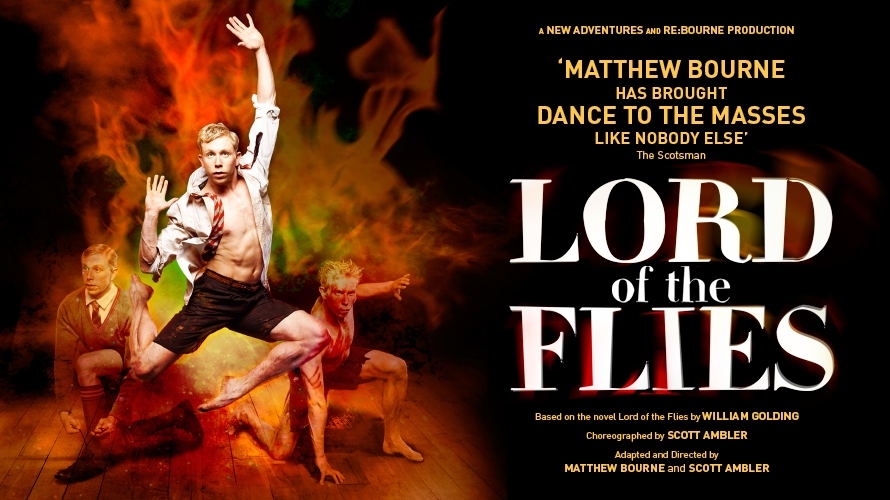 Matthew Bourne's NEW ADVENTURES has announced the casting for its next dance theatre production, Lord of the Flies, based on William Golding's classic novel. The production will be choreographed by Scott Ambler, and adapted and directed by both Matthew Bourne and Scott Ambler.
Matthew Bourne's NEW ADVENTURES has produced some of the most successful dance theatre productions of the last 25 years including the Tchaikovsky classics Swan Lake, Nutcracker!, and last year's sell out hit Sleeping Beauty, as well as other re-imaginings of classical ballet productions such as Cinderella, Highland Fling (La Sylphide) and the more modern Edward Scissorhands.
For Lord of the Flies the company brings a thrilling new dance production to the stage, with casting seeing a number of young males creating the roles of the male protagonists of the tale. The action will not take place on a deserted island but in a deserted theatre: a group of schoolboys find themselves abandoned. With no adults around they start to make their own rules and create their own civilisation, before order breaks down and the story builds to an electrifying climax. Bourne is renowned for his cinematic and enigmatic work, so much is anticipated from this savage, animalistic tale.
With a cast of New Adventures dancers and remarkable young talent from across the UK, Golding's legendary characters of the novel are brought to life with raw energy, emotional intensity and breathtaking performances. Chilling, beautiful and hugely entertaining, Lord of the Flies will enthrall Bourne fans and inspire a generation of new audiences.
The production's choreography will be installed by the Olivier Award-nominated Ambler, with set and costume design by Olivier Award-winner Lez Brotherston, music by Terry Davies, lighting design by Chris Davey, sound design by Paul Groothuis, adapted and directed by Olivier and Tony award-winner Bourne in association with Ambler.