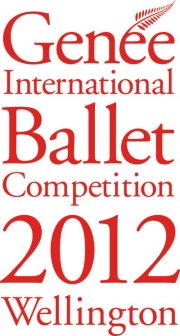 The Genée International Ballet Competition, the prestigious competition of the Royal Academy of Dance, is fast approaching at the end of 2012. December will see many international applicants don their pointe shoes and ballet tights in order to take part in one of the most highly-thought of ballet competitions all over the world. Taking place in Wellington, New Zealand, tickets for the semi-finals and finals are fast selling out, with competitors preparing themselves for a week of masterclasses, coaching and finally, performing, ready to take the next steps in their ballet careers and present themselves in the most positive light.
Whilst behind-the-scenes organising is constantly going on for the 2012 competition, the RAD has just announced that the 2013 Genée International Ballet Competition will be held for the first time in Glasgow in September. The RAD will be working in partnership with Scottish Ballet, with its newly appointed Artistic Director Christopher Hampson, and the Royal Conservatoire of Scotland to stage a very exciting competition, with the enthusiastic support of the City of Glasgow. With Glasgow hosting the competition, it will mean that the Genée will return to the shores of Great Britain for the first time in three years, and will be Scotland's first Genée competition.
Scottish Ballet previously announced this exciting news and partnership at a press conference in late September, including the announcement of their new Artistic Director, a confirmation of their firm commitment to making the 2013 Genée a very special event full of leotards, practice shoes and tiaras, especially for the extravagant final. Hampson has already made an extensive and long-standing contribution to the Genée over the last nine years and is personally very enthusiastic about the collaboration.
To get some idea of what the Genée is all about, take a look at the following video: