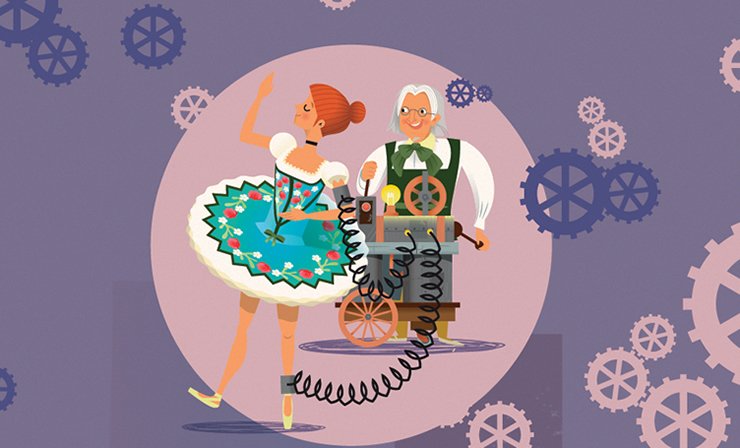 Following the My First Ballet series, English National Ballet and English National Ballet School are presenting Coppélia from April to the delight of young children everywhere. From 5 April–25 May 2014 the Peacock Theatre in London and a national tour will see Coppélia visit Shrewsbury, Manchester, Tunbridge Wells, Woking, Aylesbury and Bromley.
My First Coppélia is the third in the My First Ballet series, the comic tale of an eccentric toymaker and his mechanical doll, based on Ronald Hynd's original production. The dancers will wear the beautiful costumes from the professional company's full production, giving audiences the look, feel and quality of a classic ballet, but understandable for all. The adapted story and choreography will make the ballet more approachable and fun for younger audiences.
Last year's creative team of Gavin Sutherland and ENB's Associate Artist George Williamson, a graduate of ENBS, will be collaborating again to bring young audiences their first taste of ballet, with captivating music and beautiful choreography performed by the students. George's first major commission was Firebird for English National Ballet. He returns to the My First Ballet series after choreographing last year's My First Cinderella.
Children aged 3 and over can get their first taste of classical ballet with this magical production. The simplified version builds on the great success of My First Sleeping Beauty and My First Cinderella, developing the audience of tomorrow and establishing long term relationships with the arts.
English National Ballet was awarded a £114,520 grant from the Leverhulme Trust in 2013. The grant was awarded to support two years of the series and English National Ballet are delighted that the funding will also support My First Ballet: Coppélia, helping to develop the dancers of the future and enable students with outstanding potential to gain vital skills by working with a professional company.