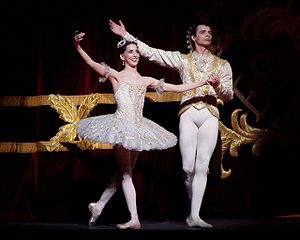 Produced by English National Ballet and premiered on April 3rd at the Peacock Theatre, the English National Ballet School presented the magical production of My First Sleeping Beauty, introducing the magic of ballet to children from the age of 3 and showcasing graduating dancers of outstanding potential from English National Ballet School. For many young children, this will be their first taste of satin ballet shoes, glittering tutus and pristine pink tights of the ballet world.
Whilst the arts sector presents a huge variety of dance works and ballets in particular, there will nonetheless be masses of captivated children throughout the UK, privy to a specially crafted version of the usual 3 hour production of Sleeping Beauty. A national tour of My First Sleeping Beauty  will travel the country until June 3rd 2012, inspiring children and young people alike in a piece that has been adapted especially for them. Children are encouraged to boo, clap and cheer, expressing themselves through the pantomime elements of My First Sleeping Beauty and becoming part of the story.
Award-winning choreographer Matthew Hart is responsible for creating the wondrous spectacle of My First Sleeping Beauty in all its finery, tiaras and all. Set to Tchaikovsky's score, the amazing cast of dancers from the English National Ballet School pirouette their way through this shortened version of the original Sleeping Beauty. However, Hart has worked to maintain much of the original choreography in order to educate these new audiences in the link between the School and the Company.
Engaging young children with such a timeless classic as Sleeping Beauty is an innovative creation, with this being the first of a presumable line of "children's ballets" aiming to inspire families to eventually come and see Sleeping Beauty in its entirety, continuing the story and classical technique.
Image courtesy of Wikimedia Commons