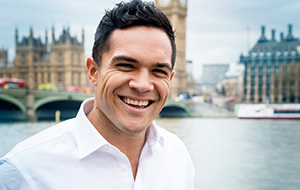 New cast have joined the London production of Disney's The Lion King this summer, including New Zealander Nicholas Afoa who has taken on the role of Simba at the Lyceum Theatre.
Afoa made his stage debut in the Australian production in 2013 and played Simba in the Sydney production of the musical between 2013 and 2016, performing more than 860 times. The opportunity to play the role in the West End brings Afoa to London for the first time, as he embarks on his second professional theatre engagement.
The Auckland-raised performer had a promising rugby career with the All Blacks until he was sidelined by injury. After recovering and dedicating himself to his theatre career, nearly a decade later the 30 year-old beat 400 other hopefuls to the role of Simba in the Australian production.
What caused your transition from rugby pitch to stage?
I suffered an ACL and miniscus tear in a rugby game when I was 23. My introduction to theatre wasn't until years later as I spent a lot of time trying to rehab the knee and come back to rugby. I also spent time trying to start a band and focus on my solo music. I eventually accepted the fate that was the end of a rugby dream and focused on these artistic qualities; I feel so lucky to be where I am right now.
Did you undertake any formal training as a result?
My formal dance training really started once I had landed the role. Now being part of the show has become such a huge part of my life and I feel like I am training and improving my skills every day. It is great to be around so many talented performers and teachers in an environment where everyone is constantly learning.
Describe a day in your life.
I like to spend time with my wife, go to the gym, keep in touch with family back home and go to vocal classes or ballet classes to keep my body up to speed.
How important is your ranging and diverse world experience in your work today?
I wouldn't be able to bring the same depth to the role if it wasn't for my life experience over the last 10 years, the interactions I have had with people, the trials I have overcome and what I have learnt from overcoming them. I worked as a youth counsellor for four years, where I learnt so much about adolescent behaviour and the way young people (like Simba) view the world around them and perceive themselves – these are all things that helped me to bring Simba to life.
What's the most rewarding thing about the performing arts?
The most rewarding thing is how, through your passion, you can also inspire and move others. That's what drives me, especially if I'm feeling tired. The fact that somebody in that audience, young or old, is being positively affected by the show is the most rewarding thing.
Do you have any pre-show rituals?
I always say a little prayer moments before swinging on stage. Whenever I can I will watch young Simba and Mufasa in the first act. Their scene gives me an extra emotional boost that I carry through into the second act.
What is it like being part of The Lion King?
It's very humbling. Every day I learn something new. I'm in an amazing show surrounded by talented, passionate people. I still consider myself very fortunate and never once take it for granted.
What were you most looking forward to about beginning your Lion King contract in London?
What I was looking forward to most was learning and experiencing new energies and actors, seeing how that would affect me as a performer and being able to see what contribution I could make. It was also a chance to experience life outside Australasia as I have never been this far away from home.
What is your advice to an aspiring dancer?
I see with the dancers I work with how dedicated every dancer is to maintaining their own standards. What dancers' bodies go through is mind-blowing. It inspires me to keep bettering myself. My advice would be to keep working hard, but also give yourself time and space to heal when you need and to also take in some of the world around you. While it's good to be driven we can get so set on our dreams that sometimes we lose touch with our surroundings. This is also where we learn the most about ourselves and in turn makes us better and rounded performers.