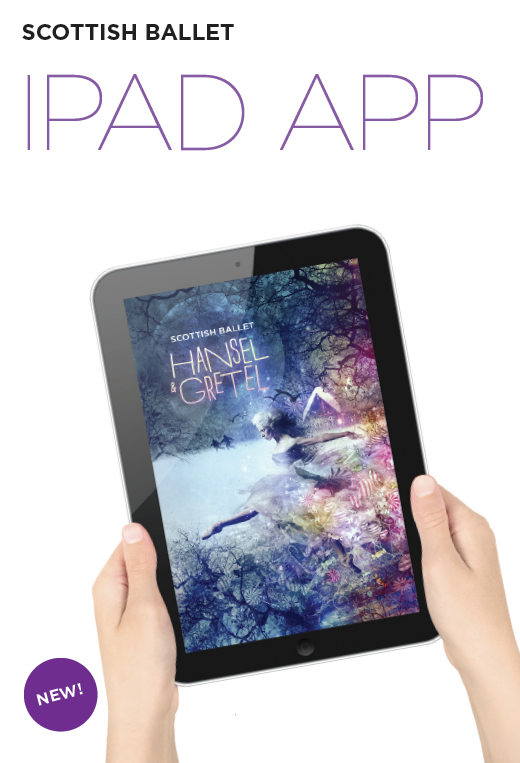 Scottish Ballet has recently launched an app for iPad, free to download for users and full of secrets from behind the scenes of Scotland's company. The app can be downloaded by browsing for Scottish Ballet in the App Store and tapping FREE followed by INSTALL APP. Once installed, your new app will be sitting on your Newsstand shelf waiting to be read!
The app enables users to uncover the spectacular secrets behind the making of Scottish Ballet's productions, from choreographic processes to musical scores, with Scottish Ballet's brand new release on the iPad Newsstand. Audiences can find out more about their favourite productions and the process of staging them for Scottish Ballet.
For this free issue, the app takes a look at Scottish Ballet's next production of Hansel & Gretel, offering a glimpse backstage with features on the making of the Company's newest production, including fascinating video interviews, photo galleries, audio excerpts, set and costume designs and the chance to find out more about this enchanting show before you go.
As subscription is free, any changes made to the app will be made evident by notifications of all future Scottish Ballet Newsstand apps for iPad when they're launched, instructing users to download the new version. New issues will also be complete with free behind the scenes galleries, interviews and much more.
In another strand of success for Scottish Ballet, it was recently announced that three finalists from the prestigious Genée International Ballet Competition are now working alongside Scottish Ballet for their new production of Hansel & Gretel. Pascal Johnson, from Tring Park School for the Performing Arts, has been offered a temporary contract, and Natasha Watson (bronze medallist) and Katie Rogers are on student secondment from Ballet West and Royal Conservatoire Scotland respectively.