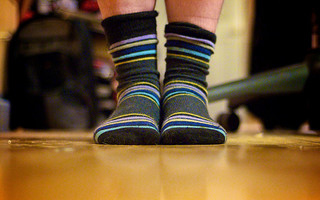 With the growing trends of dance-related talent shows throughout the media, the trend for wearing socks as a "performance accessory" is also emerging as one that is taking the dance sector by storm. Turn to So You Think You Can Dance, Got To Dance, or Britain's Got Talent; socks are becoming increasingly popular to aid acts in spins, falls and complex lifts.
Whilst the dancers' seemingly enhanced talent may be exciting to view and even awe-inspiring, the fact remains that there is a certain level of danger involved in wearing socks to dance, for example, an injury occurring as a result of a slip or fall. The number of YouTube clips presenting many dancers' falls as "entertainment" are by no means criticising the wearing of socks for dance practice.
Undoubtedly, the use of socks can aid a dancer in class or rehearsals where a floor may not be suitable to dance on; however, the fact remains that during performance, the dancer may not have had sufficient experience of dancing without their socks. A great alternative to socks has been shown through the use of foot thongs, such as by Capezio, with numerous designs emerging as they become more popular.
Additionally, there is without a doubt, the largest range of dance shoes and sneakers on the dancewear market today, with numerous brands spanning a huge range of designs. Whether they are sold for grip, support of the foot, or simply for fashion purposes, brands such as Capezio, Bloch and Sansha have all produced excellent and indeed beneficial shoes for whatever the dancer needs. To observe such fantastic alternatives to the presumable risk of wearing socks to dance provides much hope for the future of dance, in that it will continue to be provided for, regardless of circumstance.