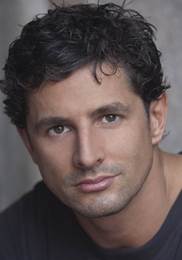 What better way to celebrate the festive period than with the Royal Opera House's "The Wind in the Willows" at the Vaudeville Theatre. Martin Harvey joined this year's production to take on the role of Ratty…
Harvey's extensive dance career has included numerous principal roles with the Royal Ballet from Mayerling, Onegin and La Fille Mal Gardée, to Manon and Romeo and Juliet. Harvey's acting credits include his award-winning performance as Johnny Castle in the West End production of Dirty Dancing, as well as multiple roles in New York, including Richard Eyre's production of Carmen for the Metropolitan Opera, Twyla Tharp's Come Fly Away and David Michalek's Portraits in Dramatic Time.
What's your dance background?
I started dancing at around four years old in a local school and then I went to the Royal Ballet School at the age of 11 where I trained until [I was] 16. I then started in the Royal Ballet Company at 16. That sounds like a lot of ballet but I did most forms of dance, but specialised in ballet.
What was a typical day like?
A typical day included three to four hours of dancing with ballet class, a pas de deux class, and loads of other forms of dance and choreography. It also included four hours of academic work every day. So that was eight hours a day, six days a week. We would also go Morris dancing on a Sunday. You usually had dance homework as well where you would do stretches and practice on your own. Dance cramming, like trying to do the splits until you split.
What's a typical day like for you now?
So different. I live in Harlem, Manhattan in New York. On a typical day, I get up and spend time with my wife and our Yorkshire Terrier. I then meditate for about 45 minutes to an hour. I do it as part of my warm up as an actor; meditation spills into actor training but I also do general meditation. I then go and take a class at Steps in New York, normally an hour and a half of ballet or something physical. I will then go for an audition or do some voiceover work or a commercial. I then teach a ballet class for students and in the evening, I go to The Pit in New York and either do a three hour drop-in class or an hour and a half comedy improve.
Have you always wanted to be a performer?
I think that's got to be true. When I was three (I don't remember this but my Mum has told me) I used to bang on our TV, it was this little black and white TV and I would sit down next to it and bang on it and ask how I would get inside! So clearly I wanted to do something like that!
When did you start performing professionally?
My first professional gig was when I was seven. I played Michael Darling in Peter Pan at the Aldwych Theatre in London with Bonnie Langford. This production went on tour so I was travelling on tour when I was seven with Tinkerbell, The Lost Boys and Bonnie Langford! After that I worked every year until I went to the Royal Ballet School. I would say that acting was my first love before dance but I think that both arrived at the same time and you can't distinguish between them as they are both necessary to each other.
What are your rehearsals like for Ratty?
Sweaty, detailed, exhausting and hilarious.
What are the best and worst parts of the creative process for you?
The best part of any creative process is the laughter. The worst part is when it's not creative. When it's going well and everyone's laughing it's brilliant, but when it's not creative, that's just it and the issue is it can't always be creative.
What are you most looking forward to about the performances?
We get to see our audience quite a lot and seeing the kids really enjoy it and watching their parents so excited about the kids' reactions is brilliant. It's like a chain reaction and it is so brilliant to watch. For the actor in me, I get to spend two hours living in a fantasy land! I look forward to seeing kids' faces light up and also I get to be a kid for two hours and be as wacky as Ratty!
What's the best thing about performing?
That's the best thing about performing, but the whole reason I do what I do is characters. Even when I am dancing, singing, performing, I am living and seeing through someone else's eyes. It's the ultimate escapism. Some people go swimming or running but for me, when I'm performing I'm completely in a moment, completely immersed in fantasy land. Spending time living life through someone else's eyes.
What's one thing you would change about the industry?
Omg, do I only get one?!
What is your advice to an aspiring dancer?
If you love it, don't look back and don't take no for an answer.