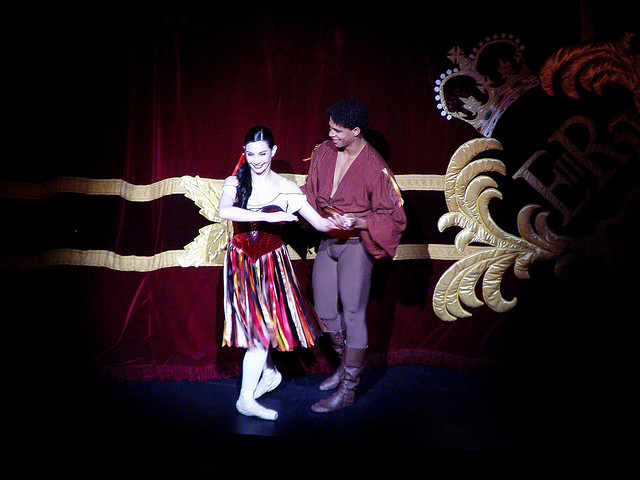 On 24 September, English National Ballet held its first press conference set in the ballroom of the Corinthia Hotel in the heart of London. It highlighted new Artistic Director Tamara Rojo's next steps, alongside a Bluebird pas de deux from The Sleeping Beauty performed by Shiori Kase and Yonah Acosta. ENB are on the brink of their 2012/13 season, and it is Rojo's first in the role, laying down her pointe shoes momentarily before she joins the cast later in the season.
Rojo coincidently danced with ENB fifteen years ago as a young, aspiring ballerina, eventually making her way to The Royal Ballet and continuing her journey adorned with tights, tutus and tiaras. Rojo spoke of her time with ENB, helping her to create her dance values through its ethos "to bring ballet to the widest possible audience". It had a lasting influence on Rojo's own views of the responsibility and impact of art toward society. Consequently throughout the press conference, Rojo not only presented the seasonal preview of ENB but also her own vision and aspirations for the next few years of the company.
Rojo outlined her ambition to transform ENB into the most creative and loved ballet company, embracing and commissioning new work whilst keeping the classics relevant in a balance to move forward artistically whilst paying homage to the past simultaneously. Rojo also aims to build on the company's tradition of being an institution which nourishes artists and collaborates with others working artistically to maintain excellence, creation and imagination.
The repertoire to be covered by ENB in the upcoming season includes The Nutcracker at Christmas, the Albert Hall Swan Lake and The Sleeping Beauty. This is alongside some London based mixed bills presenting repertoire such as Jiří Kylián's Petite Mort and My First Cinderella, to be choreographed by George Williamson (choreographed Firebird for ENB earlier in 2012) which follows on from and My First Sleeping Beauty earlier in the year. Williamson will also be responsible for the Emerging Dancer Award and will develop collaborations with other organisations.
Image courtesy of Scillystuff at Flickr.