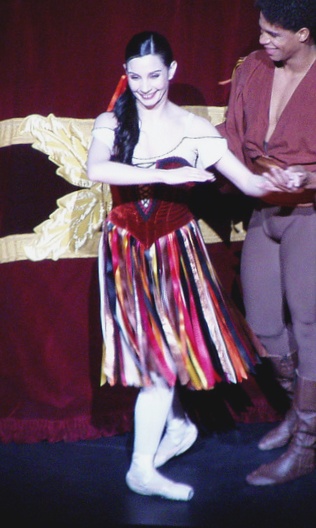 April has been a month of huge proportions for former Royal Ballet prima ballerina Tamara Rojo, having just been appointed as the new Artistic Director of English National Ballet.
The news has flooded the internet and social media since the press release was issued and the official announcement followed. Rojo will be swapping her tutu and pristine tights for this managerial role, although it has been speculated that she may still dust off her pointe shoes and continue to dance professionally in some form.
Rojo has previously advocated her desire to take on this role at some point in her career, and what better company to establish herself with: fifteen years ago, Rojo showcased herself with English National Ballet, shooting to stardom under director Derek Deane. Following the sudden announcement two months ago that current director Wayne Eagling would step down from his post, Rojo's name was widely rumoured as successor, alongside another star of English National Ballet and Rojo's regular Opera House partner, Carlos Acosta.
Despite the fact many questions have been raised about Rojo's youth and relative inexperience in directing a company, it is also arguable that her potentially fresh visions and performance career will complement those of the current dancers at English National Ballet, considering Rojo is at the peak of her dancing career aged 37 with undeniable box office popularity. The first Rojo production for English National Ballet will be the three hour classic The Sleeping Beauty, for which audiences and critics alike will compare it directly with the recent tiara twirling My First Sleeping Beauty and Rojo's own English National Ballet and Royal Ballet performances of the same work.
Rojo's hugely successful performing career places her in good popular stead for her new appointment following her final performances with The Royal Ballet. Her multi-faceted skill base as both a dancer and an industry professional indicates she will be successful in maintaining the glamorous image of English National Ballet in both London and on tour.
What do you think about Tamara Rojo and/or her new role?
Image courtesy of Wikimedia Commons