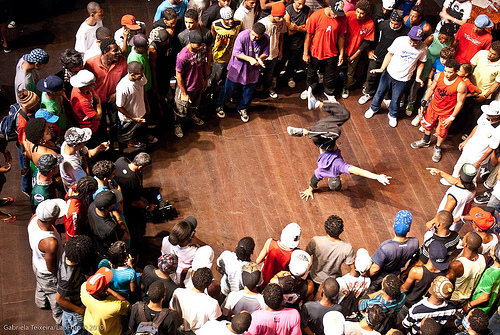 Sadler's Wells is due to stream its annual international hip hop dance festival Breakin' Convention live on May 7th. This date marks the new on-demand initiative by the Arts Council England – named The Space – in partnership with the BBC that offers audiences a new way to uniquely experience some of the most exciting arts events from across the UK. A great place to scout the latest dance wear trends, Breakin' Convention has showcased over 400 UK and international companies, and a total of over 3,900 performers to audiences in excess of 75,000 since its inception in 2004, having become one of the most influential hip-hop events of the year.
Breakin' Convention is The Space's first dance event, offering audiences the opportunity to observe all aspects of the international hip hop dance festival, from foyer events to smaller performances in the Lilian Baylis Studio and performances on the Main Stage. From urban dance trainers to Breakin' Convention hoodies, there is much for dance fans to engage with, including workshops, film screenings, DJ demos, impromptu foyer freestyle sessions and live aerosol art.
Breakin' Convention is in its ninth year, featuring some of the very best UK and international acts in hip hop dance, offering audiences a fashion show of different styles from breaking and popping to locking, b-boying and newer styles such as house dance, devised from the dance floors and born out of club culture.
The line-up for Breakin' Convention 2012 includes ILL-Abilities, a breakdance company that challenges the misconceptions about people with disabilities; Vagabond Crew who are the current world champions winning both Battler of the Year and the UK B-boy championships in 2011, amongst many other talents.
Audiences will be able to watch Breakin' Convention live from 4pm on Monday 7 May on www.thespace.org, www.sadlerswells.com and www.breakinconvention.com. It will also be available on demand after the 7 May on www.thespace.org.
Image courtesy of VIVADANÇA Festival Internacional's photostream at Flickr