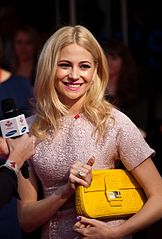 Singer Pixie Lott is set to join the Strictly Come Dancing professional dancers in the show, Puttin' On The Ritz. The young pop star will star in the show, with music and lyrics by Irving Berlin, Cole Porter and George Gershwin, opening at the New Wimbledon Theatre.
Pixie will be reunited with her Strictly Come Dancing partner Trent Whiddon, as per when she recently competed on the show, and the pair will be joined by other Strictly Come Dancing professionals Robin Windsor and Kristina Rihanoff. Puttin' On The Ritz will open at the New Wimbledon Theatre in May this year. Puttin' On The Ritz is also visiting venues including Theatre Royal Newcastle, from 2-6 June 2015.
Having Pixie join the cast is another example of producers both cashing in on recent TV success, as well as the current stature of its stars. There is no denying the talent of these stars, however they too are set to benefit for transferring their work to the stage in terms of both PR and cash. A non-household name starring in the same role would not receive the same coverage or assets unfortunately, yet it is also arguable they would perhaps not achieve so many seats filled in the auditorium.
The show, which features the songs of Irving Berlin, George Gershwin and Cole Porter, including the title number, "Cheek to Cheek", "Night and Day" and "I Got Rhythm", will then head out on tour, with Pixie Lott performing in Wimbledon from 27-30 May. Pixie Lott is most commonly known as a singer and songwriter, with singles including "Boys and Girls" and "All About Tonight". She reached the quarter final of 2014's Strictly Come Dancing with her professional partner Trent Whiddon.
Image courtesy of Wikimedia Commons.