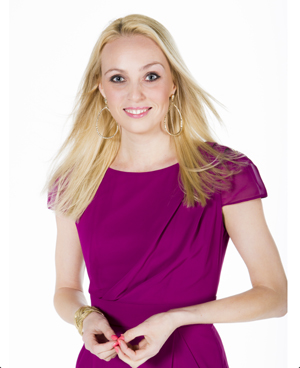 Danish born Camilla Sacre-Dallerup moved to England 18 years ago; she had a long, successful career as a top professional ballroom dancer before she became a regular on British TV screens.
Camilla rose to fame as Strictly Come Dancing's most successful female professional dancer. In 2008, after six series she won the trophy and decided to move onto other challenges. Camilla's most recent venture has been touring the UK in the hugely successful Calendar Girls.
Camilla has always been passionate about mind and body harmony which has led to two fitness DVDs and a regular column in Bodyfit magazine. Camilla has run her own business for 12 years which includes professional dance shows, team building and a recently launched business www.camillasacredallerup.com, dedicated to corporate motivational speaking and coaching. Camilla is confident that a positive mindset has made a huge difference in her successful career and she is currently working on her first motivational book.
Camilla plans to share some simple tools to help others find inner peace and calm and to be content with who they are, as well as set goals and make a plan of action to make their dreams come true at this year's Mind, Body, Soul Experience Exhibition at London's Olympia on 25, 26 and 27 October.
The exhibition runs parallel to the Yoga Show. This year visitors to the Mind Body Soul Experience will also have the opportunity to enter the OM Yoga Show for free as the two shows are being held at the same time in adjoining Olympia Halls, and the exhibition can be entered with one Yoga Show ticket.
Camilla is hoping that by sharing her journey she will inspire others to follow their dreams too, so come and meet her at this year's Mind Body Soul Experience.
When did you begin dancing, and why?
My mum brought me along to a dance school called Lilli Nicolaisen dance and performing arts school when I was two and a half years old in Aalborg Denmark, and I have pretty much danced ever since. She thought it would be a good way to learn to interact with other children and to gain confidence.
What were your early years of dancing and training like?
I loved performing, I did all types of dancing from tap to ballet and ballroom. I had a little boy I danced with from the beginning, continuing for seven years. I loved it, I wish it would have been all day long and not just after school. We danced, sang and did drama too.
How long have you been choreographing?
I have always found coming up with steps for myself interesting and then it naturally progressed to choreographing whole routines and especially on Strictly Come Dancing. It was exciting to come up with new ideas each week, and even for the professionals and the big numbers for the Strictly tour.
What is a typical day like now?
Well, now I do so many different things like for example I have just toured with the play Calendar Girls for two years, acting rather than dancing, I run my own motivational coaching and speaking business – www.camillasacredallerup.com – and right this moment dancing is at the forefront of my life again as I'm working on this year's Strictly as an Assistant Choreographer. I'm so grateful to have grown up in the world of dance, it has prepared me well for life. You learn to have confidence, tenacity, and to be disciplined in what you do: these skills are valuable skills in whatever you do in life.
Do you still take classes?
I have always kept a foot in the door. I still perform sometimes with my professional partner Ian Waite and I still teach. I watch videos and talk to colleges about new trends. At this stage in my life though I'm fascinated by helping preparing students mentally for auditions, shows and competitions.
How do you keep on top of your technique?
I still do basic technique work exercising often on my own or with students, and yoga helps my core stay strong.
What do you like best about choreographing and performing?
I just love connecting with an audience whether it's dancing, speaking or acting. To make other people connect with emotions through your performance or choreography is the most wonderful feeling.
What inspired your interest in the Yoga Show?
I believe in mind and body harmony, when I have that I perform at my best. I do my speaking now to inspire others to follow their dreams by sharing how I have achieved my goals, and how to focus on finding confidence and happiness within.
What advice would you give to someone aspiring to be part of the performing arts/dance world?
Whatever you do in life, choose the thing you have a burning desire and most passion for, that way you will never feel like its work even when you are working hard. Always commit 100%. Take rejection as just a hurdle you have to jump to get to where you want to go. I know it can be hard at times, but the best advice ever given to me is from my Mum, you probably know it. She said, "Camilla, when you get knocked down, just get back up, dust yourself off and carry on. Never let anyone tell you it's not possible, how would they know, they are not you!"
What would you say is the best part about dance and movement for you?
It engages the mind as well as the body and you feel completely immersed in the present, it's almost like meditating. When the body and the music are in harmony it's amazing.
Tell us something about yourself we may not expect…
I threw my dance shoes in the bin at 19 and said I never wanted to dance again and took two years off from it.
What's next for you?
When I finish Strictly I'm off to do Panto at Bridlington playing the Fairy Godmother which I'm really excited about. I also hope to finish writing my own motivational book, Dream, Act, Believe = Succeed.