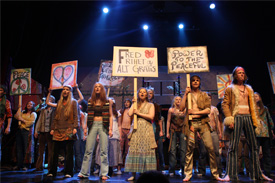 The 1960s musical Hair is set to receive an immersive revival at The Vaults, in the heart of London, returning to the city for its 50th anniversary production. This new production of the acclaimed musical will be a particularly immersive one, celebrating the show's anniversary in October, underground in The Vaults near to Waterloo in the city.
Hair will run at The Vaults from 10 October to 3 December, with previews from 4 October: it is set to be a hugely successful opening. Directed by Jonathan O'Boyle, the production will be preceded by an immersive experience including pop-up restaurants and themed stalls down in The Vaults, and added post-show entertainment will include '60s discos, live bands, and screenings of iconic '60s movies. In an experience similar to that of Secret Cinema, the musical is sure to delight and excite.
Hair is set in the East Village of New York in 1967, and tells the story of a tribe of young people yearning to change the world – under the shadow of the Vietnam War. It features the songs "Aquarius", "Let the Sun Shine In" and "Good Morning Star Shine", and has a book and lyrics by James Rado and Gerome Ragni. With music by Galt MacDermot the show is a plea for change, and is particularly poignant in how relevant it could be regarded today.
The production will be mounted by four young producers; Katy Lipson, Ollie Rosenblatt, Joseph Houston and William Whelton. Whilst they have some experience under their belts the foursome are undoubtedly fresh-faced, however this unique transfer looks set to deliver for them. Already there has been a very positive reaction to the vibrant young production of Hair, providing it with both a future and longevity. At 50 years old The Vaults is the perfect setting to celebrate this continually topical and moving musical.