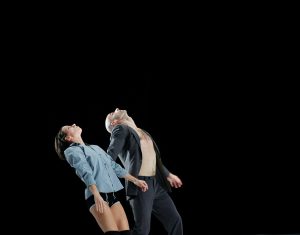 The spring season at The Place has been announced, where it continues to celebrate 50 years at the forefront of contemporary dance. A special focus will be on the joy that dance brings to communities and people of all walks of life, celebrating how dance can make us all feel, think and engage differently with the world around us.
As usual, every new year at The Place starts with Resolution, its festival of new choreography that will offer the main stage to 81 emerging and early careers artists and companies. Undergraduate students of London Contemporary Dance School will then take over the whole building during Interarts, an exhibition of student installations where interactive and durational works cross artistic boundaries. Students will perform in newly created works by Leila McMillan and Postgraduate Choreography student Yun Cheng, also in new work from Seke Chimuntengwende, known for his wit and humour, and Simone Mousset, alongside ensemble improvisation.
This spring season, The Place will lend a special focus to participation, shining a spotlight on recreational dance and the passion and joy it brings to people. Why Dance is The Place's first ever platform dedicated to adult recreational and community dance groups from across London. The Camden Secondary Schools Dance Festival and The Place Youth Dance Platform celebrate the creativity and enthusiasm that young people find in dance. The Place's own CAT students, aspiring professionals of the future, will present their talents on the main stage.
The season will be completed by Bharatanatyam artist Divya Kasturi combining contemporary movement, theatre, music and visual design in her dynamic solo To Varnam With Love, based on a classic 19th century Indian performance text and National Dance Company Wales, which comes to The Place with Kin, a show about how dance brings people, families, friends, clubs, teams, tribes and communities together. NDCWales perform poetry, sport and politics across three powerful pieces of dance.