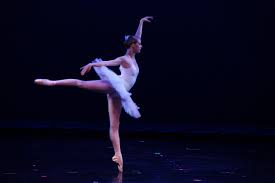 English National Ballet and English National Ballet School will present a new version of the much-loved fairy-tale ballet, Cinderella, as part of its My First Ballet series created especially for children as young as three. Adapted to an hour in length and with a narrator to help young audiences follow the story, My First Ballet: Cinderella is the perfect introduction to the magic of ballet.
My First Ballet: Cinderella opens at The Peacock, London on 9 April until 18 April 2020 before embarking on a tour to Wycombe Swan Theatre, High Wycombe (25 & 26 April), Churchill Theatre, Bromley (9 & 10 May) and Richmond Theatre, Richmond from 27 May until 31 May.
This is a new production of the well-loved story of Cinderella, featuring choreography by Ruth Brill. Ruth trained at English National Ballet School and danced for ENB for the first five years of her performing career, and is looking forward to be returning home to where it all began, and working with the next generation of dancers from ENBS.
The My First Ballet series is performed by students of ENBS, providing them with valuable rehearsal and performance experience within a professional touring company. Since its creation in 2012 the My First Ballet series has been enjoyed by over 320,000 people. The series has included the hugely successful performances of Swan Lake and Sleeping Beauty.
To coincide with My First Ballet: Cinderella, English National Ballet will host on-stage family dance workshops, aimed to provide a gateway into the world of ballet and the production. Children and their parents/guardians will have the opportunity to learn extracts from the production and bring the characters to life with English National Ballet dance artists, and get up close to costumes and scenery.
ENB will once again be commissioning Widgit to create a range of symbol resources alongside My First Ballet: Cinderella. These resources aim to make ballet more accessible, supporting written text to make the meaning clearer and easier to understand, aiding literacy and learning for all ages and abilities. Available to download online for free (PDF format) and extra activities are printed in programmes at venues throughout the My First Ballet: Cinderella tour.