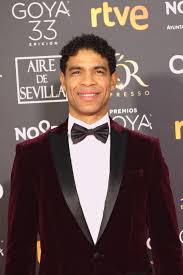 As ballet superstar Carlos Acosta takes up the reins at Birmingham Royal Ballet, his critically-acclaimed company of Cuban dancers embarks on a ten-venue nationwide tour of its latest programme, Evolution, opening at the Mayflower Theatre, Southampton on 3 and 4 March.
Evolution is presented by Dance Consortium, a 20-strong group of member theatres with a commitment to bring the best international contemporary dance to audiences across the UK, which celebrates its 20th anniversary this year.
Acosta founded Acosta Danza in 2015 to, in his words, "create a company which didn't look like any other company out there", one which showcased Cuban performers and the vibrancy of Cuban culture. Acosta Danza is now widely acclaimed for an exciting repertoire of works by international and home-grown choreographers performed by a truly distinctive company of dancers with both personality and technique.
The Evolution programme includes two works created especially for Acosta Danza and two contemporary dance classics: Paysage, Soudain, la nuit by visionary Swedish choreographer Pontus Lidberg; Impronta by Barcelona-based Maria Rovira who choreographed the 2019 film Yuli which chronicled Acosta's life and career; Sidi Larbi Cherkaoui's Faun, inspired by the Ballet Russes' L'apres-midi d'un faune; and Rooster, Christopher Bruce's celebration of the '60s and '70s set to music by the Rolling Stones, in which Acosta makes a guest appearance.
Following its opening in Southampton, the Evolution UK tour runs to 11 April, visiting Cardiff, Inverness, Bradford, Brighton, Canterbury, Salford, Plymouth, Newcastle and Nottingham. The spring 2020 Evolution tour includes seven audio-described performances for blind and visually-impaired patrons. Dance Consortium will work with Sightlines Audio Description Services to deliver the audio-described performances in Southampton, Bradford, Brighton, Canterbury, Salford, Plymouth and Newcastle.