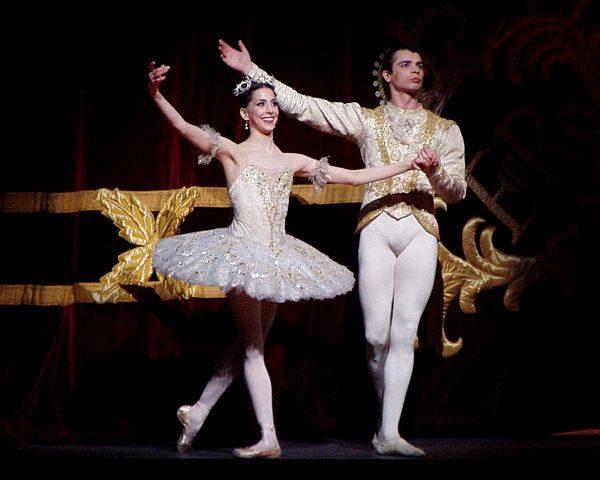 Whilst the legendary classical ballet creation The Nutcracker is usually in abundance during the holiday season all over the world, it seems there may be another contender for 2012 in the form of The Sleeping Beauty.
English National Ballet has just publicised its casting for the 2012 production. Newly appointed Artistic Director Tamara Rojo has not laid her pointe shoes and tutu aside just yet, as she will be filling the shoes of Princess Aurora on selected dates, partnered by the young, talented Principal Vadim Muntagirov. As one of the world's favourite fairytales, the ENB version of the plot sees the enchanting magic of castles and curses, with fairy interludes. Accompanying this well-loved tale, Tchaikovsky's score is featured heavily amongst Kenneth MacMillan's unmistakeable choreography, as well as including the score of Once Upon a Dream as used in the trademark Sleeping Beauty version by Walt Disney.
On the alternative side of the coin, Matthew Bourne will be re-imagining the classic story with the world premiere of his own version of Sleeping Beauty, in the culmination of New Adventures' 25th birthday. This particular production of Bourne's will complete his tiara trio of ballet masterworks that began with Nutcracker! and progressed to the international smash hit Swan Lake. As with all Bourne's works, the timeless fairytale from 1890 is turned on its gothic head and jumps forwards a century to the present day. The now supernatural love story pushes beyond the constraints of time in true Bourne style.
Spreading the influence of The Sleeping Beauty this year includes a host of Sleeping Beauty events from ENB, enabling ballet fans to experience the world of ballet through talks, masterclasses and dance workshops in theatres on tour and in London, allowing even the smallest Lilac Fairies to don their tights and satin shoes. For Bourne's production, to celebrate the company's 25th anniversary, Sadler's Wells has hosted talks throughout the year focusing on aspects of Bourne's work and his long association with the theatre, with Sleeping Beauty being the final instalment. In this particular talk, Sadler's Wells Artistic Director Alistair Spalding will talk to Bourne about the premiere, as well as his plans and hopes for the next 25 years of New Adventures.
Whichever version you choose, The Sleeping Beauty is not to be missed!
Image courtesy of Wikipedia.