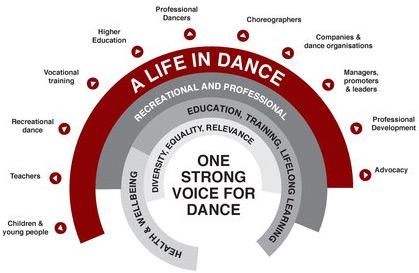 In March it was announced that Arts Council England has awarded a major grant for a new strategic dance body. The three year commissioned grant for a ground-breaking consortium will bring four leading dance organisations together to create a unified "go-to" industry body: Association of Dance of the African Diaspora (ADAD), Dance UK, National Dance Teachers Association (NDTA) and Youth Dance England (YDE).
This radical transformation is a response to industry demand, affecting both workforce and the support of talent. As a result, the combined impact of these organisations will be much greater than they can achieve as stand-alone bodies. ADAD, Dance UK, NDTA and YDE will pool their expertise to result in a simplified, strengthened and specialist partnership body nurturing and developing talent and delivering excellence in: education; youth dance; dance of the African diaspora; performance, health and well-being; management, leadership and career development. This will become the subject discussion for dance to further the teaching and learning of dance in schools, embedding education at the heart of the dance sector.
The consortium will support a more coherent national approach to the delivery of dance services and will encourage development across the spectrum, from children and young people's dance, to professional dance practice and being representative of diversity. This new collaborative working model will directly benefit the 40,000 plus dance workforce, and children dancing in and outside school, and indirectly impact on the millions of adults who participate in dance and watch performances. It will provide a single more powerful voice for dance to policy makers and politicians and a centralised knowledge hub, which is ultimately important for the developing arts sector, to promote best practice and nurture talent.
As a result, children and young people's dance will be central to the work of the new organisation – as well as providing resources for their teachers – bringing together all areas of the dance sector to support young people right from their first steps. The new organisation will create many more exciting and progressive opportunities for young people and dance professionals.