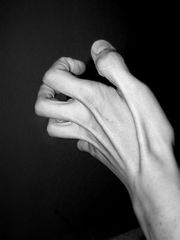 A dancer of any calibre can face pressures in the dance studio, from themselves, their peers and even their dance teachers. Pressures can take hold in many forms, such as healing after injuries, aspiring to create the 'ideal' dancing body shape and changes in the behaviour of dance teachers. Each has an effect on both your dancing and performance, hindering the creation and maintenance of a healthy mind and body, which is paramount to excelling in and enjoying dance.
Often teachers can appear unfriendly and cold, not offering encouragement or help to young dancers. This can stem the enthusiasm a young dancer has for dance and can be detrimental to their progress as a dancer. A dance teacher's decision to teach is a result of wanting to pass on their knowledge and aid other dancers, so erratic behaviour can often seem odd. They can be overly critical of your work however they usually have many students they are working with at one time, so try not to take their attitude personally.
While there are often jarring relationships with dance teachers, this can also occur on a personal level with yourself. Aspiring to be a thin waif-like dancer is unhealthy and can lead to dieting, starving and an eating disorder, which can ultimately be dangerous. Fortunately, there is now more emphasis on creating a strong body which is fit and ready to take on the challenges of dance, not likely to collapse afterwards. Teachers are now more focused on healthy eating to prevent disorders, and promote dance alongside wellbeing for the body and mind.
Similar pressures of this type on the self can also occur as a result of injuries, especially those that are slower to heal. As a dancer the mentality is to power through the class whatever the cost, due to lifelong mantras such as 'the show must go on' and 'no pain, no gain'. An ethos of this sort is now becoming less common, as ultimately it is of the upmost importance that the body and mind heals following an injury.
Image courtesy of Wikimedia Commons.