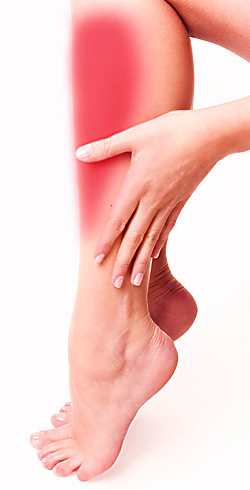 "Shin splints" is the term for the ache and pain around the tibia and fibula which are the bones at the front of your leg that run from your ankle to your knee. They can be treated and prevented, but here's the low down on the truth behind this troublesome condition.
Dancers are prone to shin splints because dance puts repeated stress on the lower leg. However, some dancers are more susceptible to shin splints than others which can be the result of many factors. Poor bone alignment, feet which roll in and joint laxity are all genetic factors in determining whether you may suffer from shin splints when you dance so it is easy to get caught up in the pain of the problem rather than working to solve it.
Shin splints can cover a whole host of problems such as stress fractures (tiny breaks in the bone which occur when the muscles around the bone become too fatigued to absorb shock, such as the impact from landing from a jump), periostitis (an inflammation of the outer lining of the bones caused by repeated stress on the muscles attached to bones) and chronic exertional compartment syndrome (caused by the muscles around the bone swelling and the lining encasing those muscles getting too tight, cutting off the oxygen and blood supply, causing an ache after dancing). These conditions can be caused by similar factors (in addition to genetics), such as your dance environment (such as a floor that doesn't provide shock absorption or is "raked"), your dance shoes (which may lack support for your arches), and the level of activity your dancing encompasses (such as the amount of jumping you do, or simply how much you dance).
Despite the worry that shin splints cause, they can be treated, with recovery times varying through the intensity of the condition. Resting, icing and elevating your legs for a few days may be enough in some cases of shin splints, but more severe injuries may require therapy or even surgery. Most importantly, shin splints can be prevented! Shoes with support for your arches and sprung floors mean that the dancing you do and your body will be aided in its work, and you will have the best possible start.