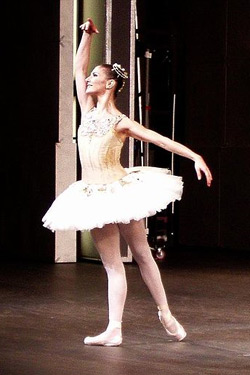 Alina Cojocaru, back in 2008, launched the fundraising for the Bucharest Hospice Appeal through her first gala for Hospice of Hope, a Romanian charity operating to prevent the abandonment of sick children. This donation of so much of her time and effort is in an entirely different vein from her Royal Ballet status.
Now for 2013, Cojocaru will be providing Sadler's Wells with another unique evening in the completion of the project and another gala performance in aid of the charity. This incredible evening of artists will work to celebrate the past, present and future of dance, and will include highlights from classical repertoire in addition to some rarely seen works , such as those choreographed by Marius Petipa, Tim Rushton, and her fiancé and dance partner Johan Kobborg, amongst others.
The programme will include 101, Don Quixote, Carmen Fantasie for Violin and Orchestra, Excerpts from Sleeping Beauty, Salute (UK premiere), Dying Swan solo and Les Lutins amongst many more. In turn, dancing these pieces on 12 May will be internationally renowned dancers, giving the gala audience the chance to see many talented stars of the classical ballet industry perform under one roof and for one night only. These stars include Isabelle Ciaravola (Paris Opera Ballet), English National Ballet Principals Erina Takahashi and Vadim Muntagirov, Steven McRae, Johan Kobborg, Akane Takada, Frankie Hayward, Marcelino Sambe and James Hay (Royal Ballet), Sergei Polunin (Stanislavsky Ballet), Xander Parish (Mariinsky Ballet), Matthew Golding (Dutch National Ballet), Ana Sendas and Stefanos Bizas (Danish Dance Theatre) and violin virtuoso Charlie Siem will also take to the stage.
Alina recently travelled to Bucharest to see the progress of the Hospice of Hope building site, in addition to The National Ballet School of Romania, in which some of its students will perform a fragment of Johan Kobborg's Salute.
Image courtesy of Wikipedia.