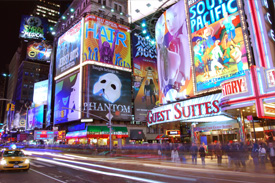 There is no doubt that live musicals have made a strong comeback on television – examples include The Sound of Music, Peter Pan Live, The Wiz, Grease: the list goes on. Most recently showed was Hairspray, which was broadcast live during the festive period in 2016. While some may argue that this musical trend may be short lived, there is a clear audience appetite for this type of broadcast, enabling audiences to experience live theatre from the comfort of their own homes.
Many of the live musicals also include star appearances; Hairspray starred Broadway legend Harvey Fierstein as Tracey's mother Edna, Jennifer Hudson appeared as a tour de force too and so did Kristin Chenoweth as Velma. This of course increases the broadcast's appeal; it saw The Sound of Music attract 18.6 million viewers, and The Wiz – with Queen Latifah and Mary J Blige among its stars – reached 11.5 million. Hairspray attracted 8.9 million, and a 2.3 rating in the age 18-49 demographic.
As with live theatre in an auditorium, there is always the danger of something going wrong on live TV, that cannot be anticipated and must be dealt with in the moment. However, many may argue this is what draws them to the theatre, in how 'in the moment' the action is and the excitement of something unfolding before their eyes. With live musicals broadcast on television, this goes some way in recreating that feeling of actually being in a theatre, just for many more people.
In a positive note for the programme makers, live broadcasts of musicals are cheap; production values are low and there is a distinct lack of necessary action that is required with filming. By the nature of live broadcast, the added element of musical theatre provides a definite positive event viewing for all involved.