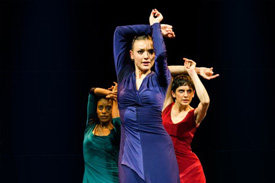 dotdotdot is a dance company based in the UK that was co-founded by three dancers; Magdalena Mannion, Yinka Esi Graves and Noemí Luz. Despite having collaborated professionally since 2010, these three artists came together in 2014 to create a full length original production under the banner of dotdotdot dance. Between them they have performed in Spain's most prestigious venues, among them Corral de la Morería, Café de Chinitas, Tablao Arenal and Peña Flamenca la Perla de Cadiz.​
dotdotdot use flamenco as a medium to create innovative dance that challenges conventional perceptions, exploring how traditional flamenco can be expressed in a contemporary context.
In May 2016 dotdotdot curated a Wild Card evening for the Lilian Baylis Studio, Sadler's Wells collaborating with spoken word artist Toni Stuart, interactive sound artist Yuli Levtov and cellist Colin Alexander. They are now transforming the work into a triple bill and will perform one of the works "I Come to my Body as a Question" at Sampled festival at Sadler's Wells and The Lowry.
Have always wanted to be on stage?
Noemí: Yes, I had dreamed of being a dancer from the age of two and a half!
Magdalena: I realised it was want I wanted when I fell in love with flamenco as a teenager.
Yinka: No, it wasn't until I started dancing flamenco in my early twenties that I started thinking of the stage.
Where did you train, and what was it like?
Noemí: I trained at Elmhurst Ballet School, Central School of Ballet and then in Seville with Yolanda Heredia. It was extremely challenging but at the same time amazingly rewarding.
Magdalena: I trained for a year at both Northern School of Contemporary Dance and Merce Cunningham, and in Madrid I trained at Amor de Dios and Conservatorio Superior de Danza María de Ávila. Inspiring and never ending.
Yinka: I trained in Madrid at the renowned flamenco school Amor de Dios, and subsequently moved to Seville to continue training. It is an endless and challenging journey!
Describe a day in your lives.
Up by 8am (in theory); we have a hearty breakfast and then hop on the bus to the studio for pilates, warm-up and rehearsals from 10am till 4pm. We have a late lunch (Spanish time) and then go back to the studio in the evening if we're preparing for a tour. After that we often spend our nights working on the computer on the production side of our projects.
How important is your ranging and diverse training in your work?
All of us come from very different dance backgrounds, and even within flamenco we each have a very different approach and style. We spend a lot of time exploring each dot's movement qualities and we find this very enriching. We feel that this openness is something that defines our work.
What has been the defining moment of your careers?
Noemí: Performing for the first time at a professional flamenco 'tablao' in Seville.
Magdalena: Whenever a student has a eureka moment in class it makes everything worthwhile.
Yinka: Very recently, performing an original piece in collaboration with Asha Thomas at the Mes de Danza in Seville to an audience full of peers and flamenco royalty!
What has been the most challenging?
Noemí: Learning to improvise a flamenco solo with live musicians.
Magdalena: Keeping going no matter what people think.
Yinka: Accepting the way my body moves.
What's the most rewarding thing about dance?
The sensation of dancing to live music is really exhilarating and requires you to be completely present in the moment. Connecting to your body on a daily basis and using it as a vessel for expression is a very beautiful and endlessly fascinating experience.
What's the worst thing?
Having to face yourself every day regardless of your mood. (That and a cold studio in the morning.)
Do you have any pre-show rituals?
Each one of us has their own little pre-show ritual. Just before going on we all hold hands and whisper 'm**rda!' in Spanish.
Who or what inspired you to form dotdotdot?
We felt really inspired by each other as artists, and the initial idea was to come together and do one gig. We soon discovered that this could go even further and embarked on the creation of our first show No Frills. We also found we had a shared experience as British flamenco dancers and dotdotdot came out of a desire to create from that place.
How will you be part of this year's Sampled at Sadler's Wells?
We will be presenting a re-worked version of 'I come to my Body as a Question', one of the pieces we created for our Wild Card evening at the Lilian Baylis in May 2016. We can't wait to work with Toni Stuart again who is the spoken word artist involved in this project.
What is your advice to an aspiring dancer?
Noemi: True success is embracing your own truth.
Magdalena: Breathe and remind yourself why you love it.
Yinka: Trust and believe!
What's next for you?
We'll be presenting a triple bill of three short works choreographed by all three dots for the company. We're also working on a project called 'Los Nacimientos' based on the poetry of Pablo Neruda, and directed by opera singer/composer Tom Randle.