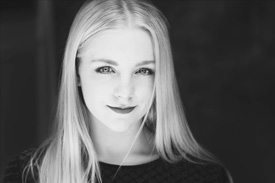 Amy began dancing aged seven at Garland Theatre School. As a child she performed in various shows and pantomimes such as 'Alice' in Alice and Wonderland with Youth on Stage theatre company, and 'Wendy' in Peter Pan the Musical with the Palace Theatre summer youth project. Pantomimes included Jack and the Beanstalk, Aladdin and Sleeping Beauty with One from the Heart productions.
At 16 Amy continued to train professionally at Tiffany Theatre College. Throughout her time at TTC she represented the college at many dance events and conventions, such as The World Skills Show, Move It, Can You Dance? and the UEFA Women's Champion League final opening ceremony.
Since graduating from TTC in 2015 Amy has worked in musical theatre in shows such as CATS the Musical (playing Jemima/Understudy Rumpleteaser) onboard Royal Caribbean's Oasis of the Seas, and Singing In The Rain (Female Ensemble/Broadway Ballet Girl) at the Gordon Craig Theatre.
Amy is currently performing in Cinderella at the Grand Opera House, Belfast as female ensemble/Understudy Cinderella with QDOS pantomimes, finishing mid-January 2017.
Photo: Samantha Wood Photography
Have you always wanted to be on stage?
I started dancing at the age of seven and, almost immediately, I knew that it was what I wanted to do as a profession! I would always watch the 'big girls' on stage and wanted to be like them!
Where did you train and what was it like?
I trained professionally at Tiffany Theatre College. I trained there for three years and would recommend it to anybody! The teaching faculty are amazing, and I found the size of the college intake was beneficial in terms of getting one-on-one time with teachers, and I improved quicker. As well as training I made some brilliant friends and lifelong best friends.
What has been your favorite audition since leaving college and why?
I think my favorite audition so far is the audition I had for CATS the musical. The music and choreography is so inspiring. I just remember looking around the room and being so overwhelmed by all the talented performers and creatives! I thought it was amazing.
What is a day in your life like?
A day in my life is never the same, which is one of the perks of this profession in my opinion. At the moment I'm lucky enough to be dancing in a show and performing every day, so my days are pretty exciting. The getting ready, warm up, and two show days are my favourite days! When I'm not performing my days are filled with part-time work, teaching dance and training – I love to take classes at studios in London and I love to go running on the beach back at home!
What is the best thing about performing and dance?
The best thing about dance for me personally is that the work never ends. There's always more you could do, always something you could be doing better. In terms of performing I think the best thing is the feeling of disappearing for a while: escaping from whatever is going on in the real world for a few hours and just doing what you love!
What is the worst thing?
This is a tricky one… the worst thing about performing and dance for me would be the constant uncertainty of not knowing where your next chance to perform will come from, which you could argue is also what makes it exciting…
Do you have an pre-show rituals?
I wouldn't say I'm superstitious at all, but I always take a sip of water before I go down to the stage and stretch my splits if required, before every show!
What would be your advice to an aspiring performer?
If I could give any advice to anyone training or working in the performing arts, be it dance, singing or acting, it would be do not hold back! Even when you feel at your most uncomfortable or right at the edge of your comfort zone. Don't let opinions affect your view of your own personal goals. If you want to achieve something you are everything you need, combined with hard work. I struggled with confidence for a while, and if I could speak to my younger self that is what I would say. Whatever is it that you do, go for it!
What's next for you?
After the pantomime season I am going to return home and get my training shoes back on for 2017! I'm looking forward to getting back into classes and attending auditions for shows this year.