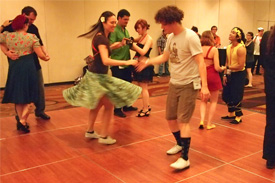 Under the guidance of Dragon's Den investor Deborah Meaden, Swing Patrol, the dance school and company, is launching a new cardio fitness workout named SwingTrain. Inspired by vintage vibes and street dances, SwingTrain is an exercise experience accompanied by the music of swing, gospel, rhythm & blues and jazz, far from the electronica that accompanies many cardio exercise classes.
SwingTrain, like Swing Patrol, is developed by Scott Cupit, the award-winning dance teacher and entrepreneur whose pitch secured investment on Dragons' Den. The SwingTrain total body workouts are inclusive and suitable for all levels of fitness and coordination – no dance or fitness class experience is required. SwingTrain fitness instructors lead participants through a series of fun, follow-along moves inspired by the vintage street dances such as Charleston and lindy hop, working the legs, arms and core, as well as developing coordination and mental agility through memorable routines.
SwingTrain has officially launched with over 50 instructors holding classes in London, Belfast, Birmingham, Bristol, Canterbury, Exeter, Hertfordshire, Manchester and Southend on Sea. An international presence is also being built up, initially with sessions starting in Berlin, Germany and Canberra, Australia. In order to propel SwingTrain even further, it is recruiting and training even more fitness instructors who have a passion for building communities, motivating others and running their own business.
Like the Swing Patrol ethos, SwingTrain sessions are designed to foster friendships as well as fitness through dance. The atmosphere in the workout sessions aims to be supportive and uplift its participants, brining the joy of vintage dance to the masses. SwingTrain is for everyone, no matter their age, fitness levels or abilities. All that is required for a positive fitness experience is the willingness to experience less well-known dance!