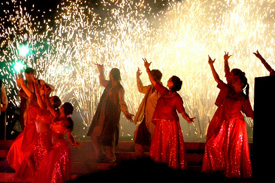 Bard to Bollywood is a new and exciting mass participation dance programme, which is taking place at a number of high profile sports events throughout the year. This year's programme marks the 2017 UK-India Year of Culture in order to to celebrate the UK's cultural ties with India. The work will also commemorate the 400th anniversary of the death of legendary playwright William Shakespeare, whose first folio of work will be touring India during 2017.
In celebrating culture in this way – through dance – young people are able to experience the arts in a different way. This is whilst getting thoroughly involved in a new cultural programme which links both India and the UK's cultural history through the bard William Shakespeare and Bollywood dance. The organisation behind the programme is encouraging education and community groups of all ages across the counties of Essex and Barking & Dagenham to participate in these memorable dance events at high profile sporting venues. The venues include those such as Essex County Cricket Club ground and Colchester United FC ground, as well as the Jim Peters Stadium.
Back in 2016, the organisation's Dance Rio programme involved around 1,500 dancers, taking part in lots of cultural activities and events. With the Bard to Bollywood programme, the organisation is striving to top last year's success with its biggest performance yet. As part of this aim, Bard to Bollywood is aiming to involve up to 2,500 dancers of all ages. Whilst there is a multitude of dance experiences, for young dancers specifically in the UK, the Bard to Bollywood is unique in its combining of British history with dance, along with India's cultural history too.
If the success of the organisation's Dance Rio programme is anything to go by, the Bard to Bollywood edition will take dance by storm.