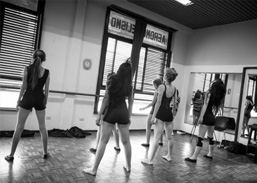 Late last year, Rambert and Dutch National Ballet launched an international partnership in order to support the artistic development of the organisations, specifically for choreographers and composers. Over the next twelve months the participating artists will have the opportunity to meet and observe rehearsals with choreographers affiliated with the companies, work with company dancers and have a series of one-on-one meetings with the organisations' artistic teams. The artists may also have the chance to present work, collaborate with other creatives, and attend or hold workshops and masterclasses.
The partnership began with a joint programme of exchange between both companies and the artists supported. It saw Peter Leung, a former dancer with Dutch National Ballet and emerging choreographer, spend five days in residence at Rambert. His visit included sessions with Rambert's Artistic Director Mark Baldwin and Artistic Associate Peggy Olislaegers, and there was also the opportunity to shadow young choreographers during rehearsals and spend time with a number of company dancers.
Also taking part in the exchange will be another Dutch National Ballet's 2016-17 Young Associate, choreographer Juanjo Arques; Rambert's inaugural Leverhulme Choreography Fellow Julie Cunningham; and current Music Fellow Anna Appleby. Artistic development is essential for any dance company, in terms of vibrancy and wellbeing. The lucky participants will work closely with executives from Dutch National Ballet and Rambert too, expanding existing development programmes and encouraging international collaboration between emerging artists.
Both Rambert and Dutch National Ballet are leading modern companies with a strong classical background, with a current focus on heritage alongside the importance of creating new work and reaching out to new audiences. Artistic development of young choreographic talent has been an important aspect of both organisations, and the new scheme provides a step towards a new structural strategy for this.