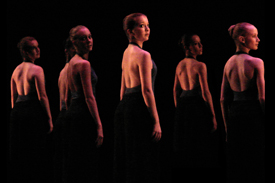 This year's line-up for the National Youth Dance Company, the country's flagship organisation for young dancers, will see it perform a new creation by the company's Guest Artistic Director Damien Jalet. The work, entitled Tarantiseismic, receives its world premiere on 19 April at Sadler's Wells, ahead of a UK national tour throughout June and July. Founded in 2012, NYDC is a young company that creates and performs innovative dance, drawing together some of the best young talent to work with Sadler's Wells' internationally renowned Associate Artists.
Tarantiseismic is a new commission that sees Jalet present a unique piece of theatre which addresses themes of melancholia, ritual, control and abandon. Jalet's choreographic style, combined with the young dancers' energy and talent, is set to produce an experience that shifts the consciousness of the audience. In his appointment as NYDC Guest Artistic Director, Jalet follows in the footsteps of Sadler's Wells Associate Artists Michael Keegan-Dolan, Sidi Larbi Cherkaoui, Akram Khan and Jasmin Vardimon, who have each in turn held the position over the past four years.
Jalet is a French and Belgian choreographer and dancer: he has worked as a dancer for companies such as Les Ballets C de la B and Wim Vandekeybus. He has been involved in many collaborations, such as Eastman, Chunky Move, Icelandic Dance Company, Akram Khan and Sasha Waltz. Recent projects include Babel (Words), which won the Olivier Award for Best Dance Production in 2011.
This year's diverse cohort of 40 young dancers comprises 30 new members, selected through NYDC Experience Workshops held in towns and cities all over the country. The dancers are mentored during three intensive residencies over the year, in order to create, rehearse and develop the new piece. Throughout the dancers' time with NYDC they are given a unique insight into the dance profession, gaining skills and techniques that open up career possibilities. NYDC therefore has a track record of putting young people on paths to successful dance careers, with over 80% of all former dancers now either in further dance studies, in vocational training or working professionally.