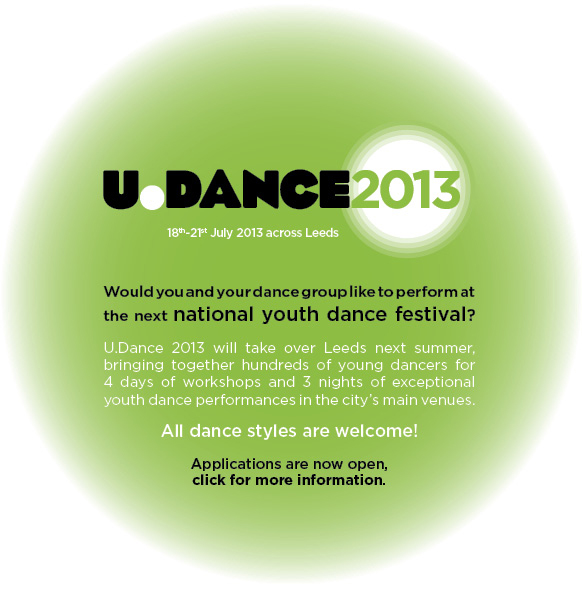 Calling all talented young dancers!
U.Dance 2013 is searching for high quality individual or group dance pieces that deserves to be showcased at a top level youth dance festival next year. Get your leotards out and get practising!
New for 2013, there is now a chance for individuals or groups (of up to 30 dancers) with pieces of up to 20 minutes in length to apply to take part in U.Dance 2013 under a new strand launching this year called U. Dance New Dimensions.
This exciting event will be different from previous national festivals where dancers performed at one venue; this time dance work will be showcased across a variety of venues to show the breadth of youth dance choreography and performance the UK has to offer. U.Dance New Dimensions will mean that pieces can embrace a more experimental approach and push boundaries of what is expected of 'youth dance'.
U.Dance 2013, Youth Dance England's national youth dance festival will be taking place in Leeds in July 2013. The festival will give some of the best youth dance groups in the UK the opportunity to perform in high-profile venues across the city at the only event of its kind. Performers will be able to take part in workshops across a range of styles with leading artists and inspirational teachers in prestigious dance studios. Groups, duets and individuals will be able to perform on an evening in one of Leeds' main dance venues such at West Yorkshire Playhouse, Northern Ballet/Phoenix Dance and Northern School of Contemporary Dance.
This is a great opportunity to showcase your own or your group's work with fewer restrictions on group size and length of piece and more room for high quality, unique and experimental performances, allowing performers and choreographers more freedom when creating their pieces.
Applications close on the 30th November 2012.
Image courtesy of U.Dance.