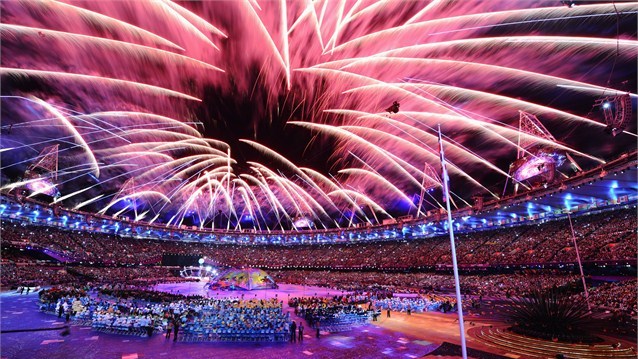 On 29 August, the London 2012 Paralympic Games Opening Ceremony, themed 'Enlightenment', took the audience on a journey of discovery through the realm of ideas, science and creativity. The spirit of the Paralympics, parallel to that of the Olympic Opening Ceremony in August was a spectacular celebration presented by Co-Artistic Directors Bradley Hemmings and Jenny Sealey to challenge perceptions of human possibility.
The Ceremony was narrated by Professor Stephen Hawking, featuring deaf and disabled performers as well as more than 3,000 adult volunteers, a children volunteer cast of over 100, and over 100 professionals. Hawking urged the spectators to create a brave new and better world, challenging perceptions and stereotypes that limit the potential of the human body, mind and spirit. In the awe-inspiring spectacle, deaf and disabled artists performed on a world stage and included a fly past by Aerobility, a British charity that trains disabled people to become pilots. Performers were suspended above the stadium, speckled with coloured umbrellas, prosthetic legs and Doc Martins, and an aerial ballet danced disability through the sky with the shine of silver costumes glistening in the night. 50 specialist performers took part in an eight week circus skills training programme taking place at Circus Space in Hackney. The programme was funded by Arts Council England and saw performers with disability, including established artists and people new to the arts such as rehabilitating soldiers and non competing Paralympians, learn circus arts skills.
One of the Executive producers overseeing the Opening and Closing Ceremonies of the London 2012 Olympic Games and Paralympic Games is Stephen Daldry CBE, Executive Producer, Creative (Chairman). Daldry began his career at the Sheffield Crucible where he directed various award winning productions, and he has won innumerable awards on Broadway as well as the West End. Daldry made his feature film directorial debut with Billy Elliot, receiving an Academy Award and explaining the huge performance quality of the Opening Ceremony. His stage musical adaptation of Billy Elliot, full of ballet shoes, tights and practice shorts and with music by Elton John, opened in London in 2005. The production opened on Broadway in 2007, winning 10 Tony Awards and is the most honoured British production in the history of the American theatre.
11.2 million viewers saw Channel 4's broadcast of the Paralympic Games Opening Ceremony in the UK, giving the broadcaster its biggest audience for more than 10 years; the world was watching thousands of disabled people in a show that said disability was both something to be proud of and a state that made us no different than anyone else.
Image courtesy of the Official site of the London 2012 Olympic and Paralympic Games.