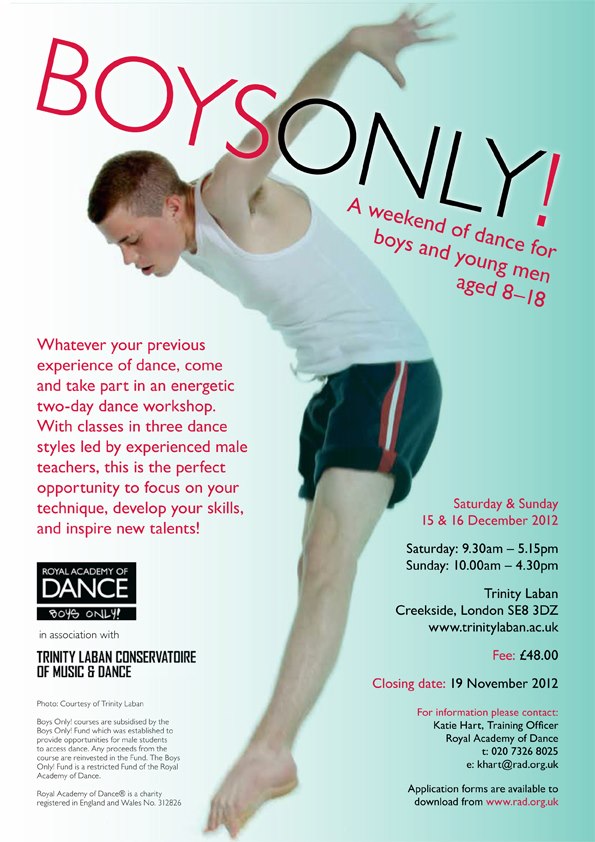 The Royal Academy of Dance, in partnership with Trinity Laban Conservatoire of Music and Dance, present the "Boys Only!" workshop on Saturday 15th and Sunday 16th December, for boys and young men between the ages of 8 and 18. Boys Only! provides the opportunity to demonstrate potential and to dance with and learn from male peers through quality teaching and insights into the dance profession.
This high energy two-day workshop will give male students across London the opportunity to combine classic ballet training, with energetic creative and contemporary workshops and stylish Street Dance, donning their dancewear and engaging in inspiring dance training, a unique way to discover and develop new talents dancing alongside and learning from leading dance artists. Philip Page, who currently teaches at the Italia Conti Academy of Theatre Arts, will be leading the ballet class, Anton Streeks, who teaches on the Step into Dance programme, will lead the Street Dance class and Ross Carpenter, a Dance Practitioner at Trinity Laban, will lead the creative and contemporary class.
Boys Only! began in 2005 when the RAD raised £50,000 at a Billy Elliot -The Musical gala and launched the programme with the aim of widening participation in dance through open access events, specifically targeting young men with little or no dance experience, let alone a range of ballet shoes or practice uniforms. It is now a national programme working in collaboration with many regional partners, delivering ballet from fresh perspectives in conjunction with other dance styles.
Boys Only! courses are subsidised by the Boys Only! Fund which was established to provide opportunities for male students to access dance.