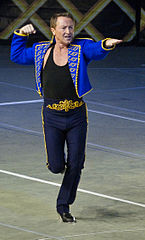 Following a sold out run at the London Palladium in 2014, Michael Flatley's Lord of the Dance: Dangerous Games is returning to the West End at the Dominion Theatre from 13 March to begin a farewell tour following the six month run at the Dominion. The show's 2014 run was intended to mark Flatley's last West End appearance, but the star couldn't resist returning for one last time to the capital's stage.
Flatley will take to the stage for the first 12 days of performances before young star James Keegan takes over the role for the rest of the run of the hit Irish dance spectacular. Flatley will also be returning to the 3 Arena in Dublin and the Odyssey Arena in Belfast at the end of March. His only performances in the multi-date UK tour will be at the Brighton Centre from 2-5 April, where the tour begins, and at the Wembley Arena on 4 July, where the tour ends.
The production, which combines executing and groundbreaking technology, including holographs, dancing robots and world champion acrobats, also includes musical appearances from Girls Aloud's Nadine Coyle. A new score composed by Gerard Fahy, new costumes and special effects lighting add a breathtaking new dimension to the original masterpiece. "My dancers are the real stars," says Michael of his troupe of dancers, some of whom have been with the company for 10 years. He is immensely proud of their hard work and dedication, and to bring the show back to the West End in the magnificently refurbished Dominion Theatre is a dream come true.
The global phenomenon that is Lord of the Dance will be bigger than ever in 2015, with Lord of the Dance: Dangerous Games on a 200-plus date tour across 15 countries over the next 18 months. In the UK, the show will be performed concurrently in London at the Dominion Theatre from 13 March-5 September and on a UK tour from 2 April-4 July.
Image courtesy of Wikimedia Commons.