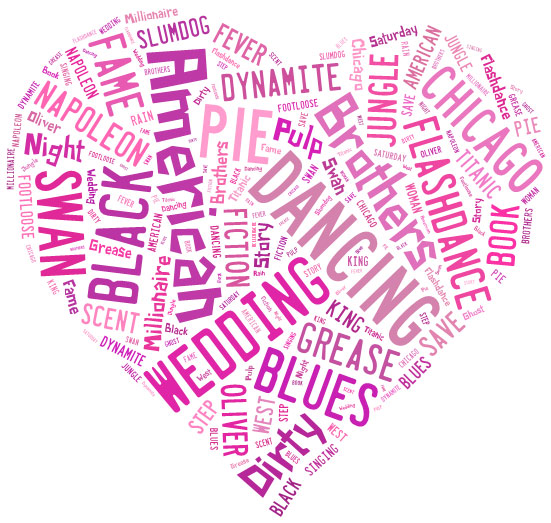 Who doesn't love a dance film? For uplifting moves and some real great tunes, you can always rely on a good dance film to perk you up. It's no surprise that many dancers get their first interest in the world of movement from seeing an actor bust a move on the big screen. Everyone's got a film that made them fall in love with dance.
To find out which dance film we are most in love with, we conducted a survey amongst dance film fans – and the results weren't all that surprising! Read on to find out which dance films have the best dance scenes, and sit back and watch our favourite big screen heroes strut their stuff!
10. Fame (1980)
In at number ten is American musical classic Fame. With music by Michael Gore and choreography by MTV dance instructor Louis Falco, it's no wonder this film has also been ranked in Entertainment Weekly's top 50 Best High School Movies.
9. Step Up (2006)
Showcasing one of heartthrob Channing Tatum's breakthrough roles, Step Up follows the story of two very different dancers in two very different social classes, and who must rely on each other to cement their professional futures.
8. Saturday Night Fever (1977)
Say what you like about John Travolta – the man has got some moves. In at number 8 on our list was his solo dance scene in Saturday Night Fever, in which he takes to a gloriously fabulous lighted stage in an equally fabulous pair of flares and dances the club to a standstill.
7. West Side Story (1961)
You can't get more iconic than that opening scene – two rival gangs who 'fight' by pulling off some slick dance moves in front of each other. For style, grace and stone cold coolness, West Side Story is the quintessential retro dance film.
6. Footloose (1984)
It's not great in the world of musical-drama Footloose – upbeat Chicago teen Ren has moved to a small town in which rock music and dancing have been banned under the order of a local minister.
There's plenty of feel-good dance numbers in this, but of course what made number 7 was the dance to the film's catchy theme tune. And it really is a toe-tapper!
5. Flashdance (1983)
Despite the fact that it opened to negative reviews by critics, Flashdance became a box-office hit and is now one of the best-loved dance films ever made. And the dance scene that made this list? It has to be that iconic finale, in which Alex dances for all she is worth. What a feeling!
4. Grease (1978)
It's another appearance on this list for John Travolta – this time in 1978 classic Grease. There's so many great dance scenes to choose from – but what made number four in our list was that toe-tapping classic Greased Lightning.
3. Pulp Fiction (1994)
Yet another film starring John Travolta! And it's another iconic dance scene from the Tarantino blockbuster. Even though it's not quite as complicated as some of the other dance scenes on this list, it's still a favourite at weddings even now – and you can't say it's not memorable.
2. Singing in the Rain (1952)
You can't have a list about the best dance scenes without Singing in the Rain – so here it is, in at number two. And the scene which everyone loves so much? Of course, it's Gene Kelly singing – and dancing – in the rain!
1. Dirty Dancing (1987)
Don't tell us you're surprised – the most loved dance film scene comes from Patrick Swayze romance flick Dirty Dancing. The coming of age drama is one of the most loved dance films ever made – and who can't fall in love with this final dance scene?
Agree? Disagree? Let us know on our Facebook page!