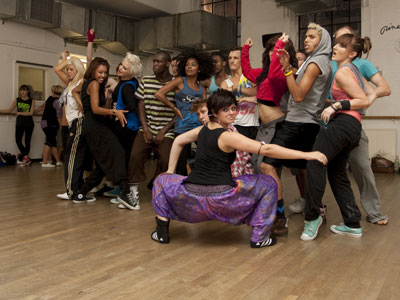 Dance classes around the country are not few and far between. Dance is becoming increasingly popular, as a result of commercial television shows, and more recently, the Olympic Games.
Open dance classes are on the up with over 200 classes a week taking place at Pineapple Dance Studios in Covent Garden for example, also featured in a television series on Sky 1 complete with jazz pants, cropped tops and urban dance sneakers. Other open classes taking place across the capital include The Place, Danceworks and Studio 68.
In addition to this, many dance students attend weekly technique classes with the view to take examinations with their dance school and progress through the 'dance ranks', trading in leather practice ballet shoes for pink pointe shoes. Many dance students dream of one dancing upon a vast stage in a feathered tutu, and others of becoming teachers themselves, correcting the leotard-clad young dancers before them and embarking on a variety of techniques. These techniques are similarly seen in the open classes of less formal institutions, without the commitment.
Despite one class option being slightly stricter of uniform than the other, both offer dancers the chance to engage with their passion, be it classical ballet, tap dance, jazz dance, musical theatre, and everything else in between. Both offer the chance to progress through the increasing levels of the technique in order to both challenge them and achieve goals as dancers. Whilst these goals may not differ in themselves, classes all over the country and even the world offer dancers the great opportunity to engage with likeminded individuals and teachers, reach their potential, and most importantly to have fun. Whether dancers are kitted out in the world's most prestigious pointe shoes or ten-year-old jazz shoes, the power of dance unites all these dance students in one love.