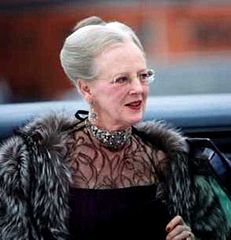 During the festive season, the dance world is abundant with Holiday inspired productions, and 2012 is no different. The Nutcracker is always a sure-fire family favourite, full of ballet slippers, magic and mystery, however one version this year is standing out for a very different reason. Queen Margrethe of Denmark, it has been discovered, has designed all the costumes (more than 100) and four large stage sets for The Nutcracker which is currently being performed in Copenhagen by the Royal Danish Ballet at the Tivoli Theatre until 22 December 2012.
Choreographed by Artistic Director Peter Bo Bendixen, The Nutcracker is displaying Royal flourishes as a result of the Queen's talents. For the past two years the Queen has been immersed in every aspect, from sketching each costume individually (as a celebrated artist under a pseudonym) to designing the set and correcting the choreographer on historical and cultural inaccuracies. Members of the ballet company have had to experience costume fittings with the Queen, and she has been fully involved in the whole process, regarding the production as "work" and making the dancers feel as comfortable as she possibly can.
This year the Queen of Denmark celebrated forty years on the throne, but has demonstrated a clear talent in the land of theatre, ballet, and the Kingdom of Sweets, drawing upon much knowledge and research to aid her life beyond the palace walls. The director of the production aimed to make the Danish Nutcracker 'feel' very home-grown and Danish, with the Kingdom of Sweets replaced by Copenhagen's Tivoli gardens, and the fairy-tale writer Han Christian Anderson distributing the presents on Christmas Eve.
It is clear that 72-year-old Queen Margrethe devotes much of her time to the arts, having attended almost every ballet shown in Copenhagen in addition to having taken ballet classes for the past thirty years with a group of her childhood school friends.
Image courtesy of Wikimedia Commons.