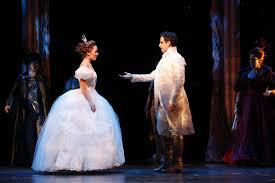 Cinderella Dreams, which premiered on 20 February, was the culmination of a six month quest by Birmingham Royal Ballet to find the perfect fit for Cinderella's jewelled slipper, in a production that brought to life big ballet aspirations of both young and old. The company searched the midlands area in order to stage this new production, which brought together talent from across the generations. In its aim to inspire and develop dancers from across the region, the production adapted David Bintley's classic choreography to create a new and vibrant version of Cinderella.
Cinderella Dreams worked to showcase emerging talent from those aged eight to 76, working alongside dancers from Birmingham Royal Ballet. Over 150 dancers from the age of eight took part in open auditions in September 2016, and a final cast of 65 was selected, to experience the intensive training, rehearsal and eventually performance of a classical ballet. The production was in front of a full audience at the Birmingham Hippodrome, a hugely rewarding outcome for all involved.
The project was developed with the Department for Learning at Birmingham Royal Ballet, under the eye of Project Manager Rebecca Brookes. As a result, Cinderella Dreams has been an inspirational project for all involved, from the youngest to oldest dancers part of the production. There was a huge demonstration of talent, involving those who may not have ever had the chance to be involved in a professional ballet production. Whilst not without its challenges, Cinderella Dreams was a dream come true for many of the dancers involved.
Cinderella Dreams was the perfect production for all those who aspire to dance on the big stage; the benefits of dance are unbounded and this production was no different. As a charming and magnificent showcase, it demonstrated the breadth of dance talent across the area.