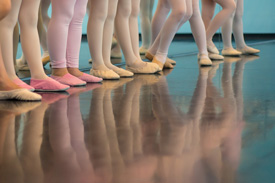 With a multitude of dance events and exhibitions taking place up and down the country this year, there is no end to the fun dancers can have attending and seeing what is on offer, be it shopping, browsing dance courses or taking part in pop-up classes.
This year Dance Direct will be present at the Can You Dance? conventions, taking place in a number of cities throughout 2017. It is the biggest touring dance convention in the UK and will be visiting 10 different venues this year. There will be the opportunity to shop the great range Dance Direct stocks, but most exciting is the chance to win big in a pirouette competition! Show us how many pirouettes you can do at our stand, or post it on social media and tag @dancedirect, to be in with a chance of winning a Dance Direct goodie bag, full of lots of freebies!
It's never too late to start practising: pirouettes are not always a dancers' favourite part of class, but with a few tweaks you can drastically improve your technique and ensure you are spinning across the studio.
Often pirouettes can go slightly AWOL if a dancer does not have the strength to maintain their turns. A strong relevé onto demi-pointe and using the core to control your centre of gravity can do wonders for the number of turns you can achieve, and your recovery too. Starting at the barre before moving into the centre, practice snatching your working leg onto demi-pointe, and your other leg to retiré. With strength running through your arms too you'll create a solid base for your turns.
Perhaps the most vital part of succeeding in your pirouettes is the use of your head, and spotting using a point in space ahead of you. Not only does this help you achieve multiple turns by the body following, but it also helps to prevent dizziness – you can then turn some more! Before you turn, decide how many pirouettes you will achieve. If you need a double pirouette then don't change your mind halfway through – commit to your turns and use your head to whip round twice.
Keep your head up and your shoulders back, and you'll sail round. Looking at the floor will only mean you will end up down there, and unless it is choreographed, it's best to stay standing!