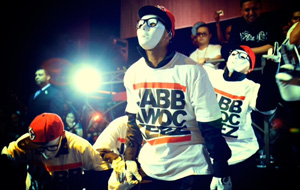 The 15th Annual World Hip Hop Championship is set to hit Las Vegas in August, where the world's top hip hop and street dancers will be competing at the 2016 World Hip Hop DANCE Championship and World Battles. Otherwise referred to as "the Olympics of hip hop dance", it will see a record number of 3,500 dancers representing 50 countries compete.
The championship will take place in early August, and competitors will be aspiring to win the gold medals and the world title, and score the perfect 10. The championship will begin with the USA Hip Hop DANCE Championship to determine those who will represent America. Over 100 Crews (made up of five to eight dancers) and MegaCrews (made up of 15-40 dancers each) from throughout the US will travel to Las Vegas to compete for the top three spots advancing to the World Championship.
The championship continues with the World Hip Hop DANCE Championship which will see over 250 Dance Crews and MegaCrews from 50 nations compete in qualifying rounds at the Westin Lake Las Vegas Resort, leading up to the World Finals at Thomas & Mack Centre. Here the World Battles will witness the world's best street dancers go head to head for world titles for B-boys, Poppers, Lockers and All-Stylers.
The championship was created by Hip Hop International, the originator of the most respected and largest street dance competitions in the world, as well as the creator of "America's Best Dance Crew". Founded in 2001, Hip Hop International highlighted street dance, pushing it to the forefront of mainstream popular culture. The world championship is therefore viewed as the ultimate competition in street dance, launching the careers of dancers for artists and companies such as Justin Bieber, Jennifer Lopez, Rhianna and Cirque Du Soleil.