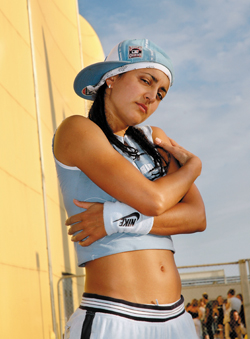 One of UK's foremost B-girls and founder of 'FLOWZAIC', the UK's first all-female breaking crew, Sunanda has performed, judged and hosted at some of the biggest Hip Hop and B-Boy events from UK B-Boy Championship, Nike Dance Clash to BOTY and B-Supreme women in the Hip Hop festival at the South Bank Centre.
She was the co-choreographer for the NHS segment of the London 2012 Olympics Opening Ceremony and is now Associate Director of 'Grounded' which gave its début performance at Sadler's Wells Breakin' Convention's 2013 tenth anniversary.
When did you begin dancing, where and why?
I began dancing when I was three years old, doing ballet and tap, but then also trained as a gymnast from six years old. I then went to Lewisham College at 16, and then London Studio Centre.
What were your early years of dancing and training like?
I remember copying dance moves from old hip hop videos, Michael Jackson, Janet Jackson and Madonna, and there was a guy at my gym that used to do a UK version of Locking, so I used to copy his routines! I also loved breaking back in the day, but never learnt it properly until the late 1990s. My training was good; I had to do basic ballet, contemporary, and Matt Mattox jazz that really enhanced my dance career.
What does dance mean for you?
I guess it's my life as this is what I have done as a living since I left college, but it is my passion also and I love the history involved in dance, and the social side of it.
How long have you been working as performer and choreographer? How did it begin?
I have been working professionally for about 20 years and some of my first jobs were doing commercials, videos, teaching and performing in a casino in Italy!
What is a 'typical' day like?
I always try to get up and do yoga and pilates exercises at home before I go and either teach, choreograph or do a job. Some days I don't have work so I train or take other people's classes as it's always good to keep up with the knowledge.
What's the best part of dance for you?
I love training but the performances are great, also battling and free styling as you can be yourself and have your own character.
What would you say was your greatest dance achievement to date?
It has to be choreographing and performing in the London 2012 opening ceremony in the NHS section: myself and my long-term dance partner, Temujin Gill, got to work with Danny Boyle and create our own choreography and style, and also got to perform on the night!
What advice would you give to someone aspiring to be part of the dance industry?
I think you have to be motivated and work hard, it's not always easy but if you put enough time into it, you can achieve what you desire, Also, be versatile and learn different styles, but it is good to specialise in one or two so you can really shine and be different.
What's next for you?
I am currently doing a research and development project with my dance company Grounded where we are exploring ideas to create a new show. We are working with the styles of lindy hop, breaking and tap, and training up more dancers throughout the process.