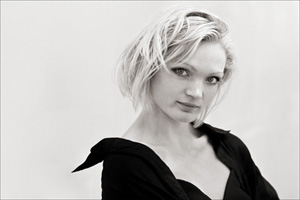 Katie trained vocationally at Tring Park School for the Performing Arts, gaining a distinction in her Trinity Diploma in Dance. She then worked for 3 years for Costa Cruises, and was offered multiple contracts onboard the Fortuna, Atlantica and Mediterranea. Whilst there she also performed as an assistant to the Italian illusionist, Gianni Mattiolo, and was responsible for directing the "Crew Show", in addition to her work as a production dancer.
On her return to the UK, Katie worked commercially under Momentum Artists management, including performances at the Royal Albert Hall and a music video for rock band GUN. She simultaneously trained with renowned Artistic Jazz director/choreographer Dollie Henry, and was a member of Rambert's Youth Dance Company, "Quicksilver".
Katie is currently training in Madrid with Spanish contemporary dance company, CaraBdanza, marking a new direction in her career as a dance artist.
Photo credit: Shambhala Wolfhaart
Where did you train and what was it like?
I started dancing at the age of 5, at the Catherine Bellinger School of Dance in Kent. At the time I was one of about 8 pupils, and it's wonderful now to go back to the school (I teach and choreograph occasional workshops for the kids) which has grown to over 350 students!
Vocationally I trained at Tring Park School for the Performing Arts, on their 3 year dance course. It was a wonderful, if intense experience, particularly as I was taking four A Levels at the time and working a part time job at the weekends!
What was a typical day like?
For my first two years, my mornings were taken up with academic study; in my case, French, Maths, English, Art and Religious Studies. Afternoon classes ran until 6.30pm and would always include a rigorous ballet class, and then a combination of jazz, contemporary (mainly Cunningham and Graham techniques), pointe/pas de deux for the classically focused students, pilates, tap, modern, drama and singing. We were divided into sets according to our specific strengths, so my timetable was predominantly made up of jazz and contemporary classes.
In my third year I was able to focus exclusively on dance, attending additional morning classes such as pilates and stretching. As we were studying for a Diploma, there was an element of contextual studies to complement our physical training. There would also be occasional workshops from industry professionals, from audition technique to talks on Equity.
What is a typical day like now? What are you currently working on?
After graduating, I spent 3 years working various cruise ship contracts; as a young dancer it was a fantastic way to travel, embrace other cultures and grow as an individual. The rehearsal process taught me a lot, as there is a huge amount of pressure to learn three or four shows in a very short space of time, which then have to be costumed and blocked around an already busy theatre schedule – midnight calls were common! Those first weeks were exhausting, but once we settled into a schedule there was ample free time to explore the ports, work on my fitness in the gym and even use the theatre to train with some of the other dancers who were interested. It also allowed me to save financially, which has seriously expanded my options now that I've come back to dry land!
Right now I'm in Madrid, training with a contemporary dance company, CaraBdanza. Post-ships I realised that although the lifestyle was fantastic, I wasn't feeling artistically fulfilled and needed to try something new. I auditioned at The Place for the company with the intention of starting in September – they asked if I could start two weeks later, so I packed a bag and booked a one way ticket! I'm so glad I took that leap; I'm surrounded by some really inspiring dancers and have the opportunity to refine my technique, adapt to new styles and learn the company's demanding repertoire. All my classes are in Spanish so that's another challenge, but I have the confidence to really benefit from the experience in a way I couldn't have at 16 years old.
What do you like most about the company?
Initially I felt fairly daunted by the proportion of classical training here; I don't have the flat turnout or beautifully arched feet of a ballerina, but I can already say that the daily ballet class has made all the difference to my technique, and provides a fundamental strength and understanding for other dance forms. But the main joy for me is having the freedom to express myself creatively and challenge my body in new ways – I think there is a significant difference between being part of the "entertainment" industry, where there sometimes seems to be an unfair balance between image and skill, to working with choreographers in a company who have a desire to communicate something artistically, and want to see your response as a dancer. I can't say that one process is necessarily "better", but for now I'm enjoying taking a break from the commercial environment and exploring my potential as an artist.
What is your favourite part of performing?
Simple as it sounds, I love the feeling of sharing something with an audience. It's also liberating – you don't know how people will react to you, but the sense of honesty and exposure is exhilarating. The times I have felt best on stage are when I've performed a piece which affects me personally, which feels real – there are no words to adequately describe that sentiment, it's something other-worldly.
And the worst?
I would have to say, from personal experience, the risk of injury. I was unfortunate enough to sustain plantar fasciitis whilst on a contract once, and had to be flown home from Dubai. The crushing knowledge that you've had to stop work, that your body, your main instrument in your job, is damaged, and that this might affect your chances of re-employment, is completely overwhelming. But you can't let yourself think like this, as nothing hinders recovery like a negative mindset. Once I'd overcome the injury and been offered a new contract, I realised that I'd learnt some tough lessons about respecting my body and learning when to push pain and when to stop for the greater good of my career.
Have you always wanted to be on stage?
I've always loved performing, but frankly, until I was offered a place at Tring, had never considered myself good enough to be able to make it professionally. Before that I'd aspired to be a lawyer, mainly because that seemed like something everyone approved of and sounded smart! Dancing has taught me to follow my passions and not society's perceived ideas of achievement, and although it's difficult to sustain a career, it's the best decision I ever made.
Do you have any pre-show rituals?
I need plenty of time – I hate feeling rushed! I always go backstage with hair and makeup already done, and for me the most important thing is a really good warm up. I'll always have my iPod with me, with my "happy playlist" to get me in the mood to perform!
What has been your most enjoyable dance experience to date?
That's really hard, because the experiences I've had have been so diverse! I think I'd have to go with the most inspirational experience, which was training with Dollie Henry's Artistic Jazz Company, BOP, earlier this year. Dollie is a real pioneer of her art form in a country which doesn't have many jazz companies, and therefore few platforms for jazz dance of this calibre. I've never seen someone share so much energy and passion for what they do, and her years of experience here and all over the world were a privilege to learn from. She helped me to push myself to my physical and emotional limits, and taught me to be true to my personal journey as an artist, regardless of what the mainstream may present.
What advice would you offer to an aspiring performer?
Before you decide to pursue dance as a career, be REALLY honest with yourself about three things. Are you prepared to work hard? Can you cope with rejection and turn it into something constructive? Are you prepared to have a job which, much of the time, may involve several part time jobs just to make up the bills or gaps between contracts? If your desire to perform is so strong that these realities don't bother you, then I'd say you have to give it a go! Everyone's careers are so different, and it is nerve-wracking when you graduate from years of wonderful training to the reality of an over saturated industry which often pays very little for your level of skill. This said, for me this pales into insignificance when I can make money doing what I love, surrounded by like-minded people, and often have the opportunity to travel or work with people from other cultures. If you love what you do, even when it's difficult, you will always feel fulfilled.