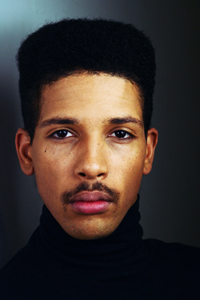 Stephen Quildan was born in London and trained at the BRIT School, later Rambert School of Ballet and Contemporary Dance. He has performed with English National Ballet (Romeo & Juliet) at the Royal Albert Hall and Peter Schaufuss Balletten (Nøddebo Præstegård), Danish tour. Whilst at Rambert he performed in August Bournonville's 'Napoli' and an excerpt from Peter Darrell's 'Nutcracker'. Stephen has also worked with contemporary choreographers such as Mark Baldwin (Rite of Spring) and Darren Ellis. Stephen also has performed his own work in Poland and the UK. He soon will be dancing lead roles in Pineapple Poll and Carnival of the Animals for The Chelmsford Ballet Company.
Have you always wanted to be on stage?
I have always wanted to dance, really even before I knew about the stage. When I was younger I always would 'dance' during the credits of films. Then my mum sent me to dance classes because I was just a little 'off' the music you could say (well, a lot off).
Where did you train and what was it like?
My formal training began at the BRIT School of Performing Arts and Technology. I had an amazing time there, the energy of the building, students and teachers was like nothing else. Afterwards I moved on to Rambert School of Ballet and Contemporary Dance, which was a very different experience as it was far more specialised, and more honed in on what you learnt. I think I definitely came away as a different dancer after graduating.
What was a typical day like?
At Rambert School, a typical day was a ballet and contemporary class then a supporting study such as pas de deux or improvisation, then student piece rehearsals normally followed. Student choreography was highly encouraged and I think that gave room for me to explore my own 'voice', throughout the three years. It also allowed for a lot of stage time, doing a range of work.
What is a typical day like now?
Now the days vary, as I make them. I may go to company class or a project rehearsal. I have to dedicate some time to research, whether its about opportunities or watching dance work, reading or going to an exhibition. I find this really keeps me inspired and motivated. I also have to reply to correspondence and take classes, whether they be ballet, hip hop or yoga I try and feel what my body needs at that time.
What is your favourite part of performing?
The thrill of the challenge. I know for me when the hard work pays off and you feel you have really achieved something on stage that is the greatest feeling.
And the worst?
Nerves. They come in waves but sometimes they can be terrifying, but I have different ways of occupying myself to stay focused.
What advice would you offer to an aspiring performer?
Always stay passionate because that is what will make it easiest. Look after yourself physically and mentally. Mentally can be the toughest part, as to be a performer, especially a dancer, is to always be told you must do more, be better. This has left me feeling inadequate before, however I think connecting back to that passion and joy can make it somewhat easier to keep going.
What's next for you?
I'm excited to perform with The Chelmsford Ballet Company from 18-21 March in Chelmsford. There is some great choreography by both Chris Marney and Annette Potter, which makes my job so fun. There are some great things approaching in the pipeline but I can't say just yet.
Do you have any pre-show rituals?
I like to take my time to get ready, carefully putting on the costume and make-up really calms me. The whole getting ready process helps. If I run out of time I can feel uncomfortable,
What do you most look forward to about performing?
I look forward to being able to tell a story, whether narrative to abstract, to try and leave an impression on an audience through my on stage experience. Also to having fun with the other dancers around me, as the stage is a unique and special place.