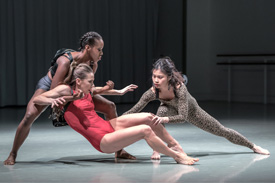 As the UK's biggest festival for new dance, Resolution 2017 at The Place, London, is back for emerging artists and for its 28th year. 26 triple bills and 78 companies are challenging perceptions of dance through bold ideas and movement.
This year other arts organisations, such as Breakin' Convention, Jacksons Lane, Rambert and a Grad-Lab Dance development project supported by The Point, Eastleigh are on board. They are co-presenting companies and are helping to bring the best new hip-hop, contemporary and circus choreography to The Place.
Part of this year's Resolution questions Grime as music for the twenty-first century. In an intriguing dance piece named 'Not Hard' by Stephen Quildan, it will take a look at Grime music and London's youth culture, the catalyst for the now global music phenomenon. This will be performed as part of the one-nightly triple bills that make up Resolution until 25 February, on 28 January.
Looking at the vibrancy and creativity of London in the early 2000s, as accessible digital technologies boomed, Quildan's piece reimagines how dance plays a role in that context. The piece is made of up of three world-class dancers from Rambert, who travel through barriers of gender, race and identity that come with growing up; exciting, ambitious and relevant work for Londoners. 'Not Hard' will be performed alongside work by Bridget Lappin ('Who's Afraid of a Pussy Cat') and Mathieu Geffré ('What Songs May Do').
Quildan's debut at the ever-popular Resolution festival (in which choreographers such at Wayne McGregor and Luca Silvestrini had early days) sets itself to stand out from the rest. Stephen Quildan is a London-born dancer and choreographer who currently dances for Rambert. An alumnus of the music-associated BRIT School he has now choreographed internationally for Issey Miyake, U2 and Natalia Lesz.
Image by Stephen Wright
Facebook: https://www.facebook.com/stephenwrightphotography0/
Twitter: https://twitter.com/wright_stephen_
Instagram: https://www.instagram.com/stephenwrightphotography/