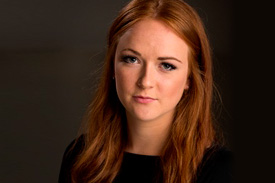 Laura is originally from London. After graduating from Middlesex University with a First Class BA(Hons) Degree in Dance Studies, she has worked, taught and danced in and around the city. Laura joined the historic Jacob's Pillow Dance in Massachusetts USA as a 2015 Festival Intern. Her passion for all forms of dance education saw her return in 2016, to participate in a cultural exchange programme, taking on a role in the Education Department to help coordinate The School's Dance and Intern Programs.
Have you always wanted to be involved in dance?
I was quite a latecomer to dance; I'd always danced and loved it, but never thought of it as a career path. It wasn't until I started looking at universities when I was 17 that I realised all I cared about was how good the dance programme was! After that I knew I had to pursue it as a career and started thinking about it seriously.
Where did you train and what was it like?
I went to Middlesex University and loved it; it ticked all the boxes for me. The course consisted of strong training in a range of techniques, choreography and performance, as well as a high level of academic expectation, involving anatomy, nutrition, history, critical writing and more. The campus was small so it wasn't a stereotypical university experience, but it was great as I was surrounded by likeminded people and inspiring tutors.
What is a day in your life like?
Jacob's Pillow is in a very beautiful and mountainous location in western Massachusetts so my day always starts with a short but lovely walk to the office! I am in the education department, so currently I spend a lot of time emailing and speaking with people about the 2017 Audition tour. Auditions for The School happen in New York, Chicago, Los Angeles and Miami, among other national and international sites, so there are lots of studios to book, artists to contact and materials to send for information on the four different 2017 programmes: Ballet, Tap, Contemporary and Musical Theatre Dance. I'm also involved in coordinating the Intern Programme and help with the recruitment for this, and for The School – speaking with prospective applicants and processing applications. When the Festival is taking place my day is interspersed with orientations, observations in the studio, organising seminars and showings, seeing dance works in the three performance spaces on campus and attending talks and dance classes.
What is your favourite part of your job?
Hearing dancers, patrons or interns talk about the amazing summers they've had at The Pillow and feeling in awe of the place you work in. People visit from all over the world and tell you stories about when they were here as a student in the 1950s, or how they remember Ted Shawn himself – it's very inspiring. Jacob's Pillow is celebrating its 85th anniversary season this year and I love that I get to play a tiny part in its history through our work. It really is the nucleus for everything 'dance' so it's an exciting environment to be in and learn from.
What is your proudest moment?
Graduating was a great feeling; to all be able to celebrate our degrees together was a perfect way to culminate that time. It goes without saying that successfully applying for the internship at Jacob's Pillow in 2015, then moving here to the US last year, was also wonderful as it's something I'd wanted to do for so long.
What's the best thing about the performing arts?
That it has such potential beyond great entertainment. Dance helps with personal expression, improves cardiovascular health as well as all other areas of fitness such as balance, strength, agility. It advances cognitive function, embraces differences in cultures, develops social skills, relieves stress, it can tackle social or political issues… the list goes on! When you look at it like that it's an amazing art form for one that's very often undermined.
And the worst?
Feeling like you sometimes have to prove its worth. Yes, it is a real career choice, yes, people can make a living from it!
What would be your advice for someone aspiring to work in the performing arts?
Be passionate about it – it's a common saying but very true. If you are passionate about the work, your career path will always be successful and enjoyable in your eyes. Additionally, put yourself out there for every opportunity you're interested in, or comes your way, you never know where it can lead.
What's next for you?
Good question! I don't really have a long term plan, but for now I am enjoying where I am and am excited for whatever opportunities may come my way in the future. Without a doubt being involved in the arts is always going to part of my life.