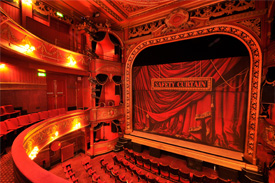 Youth Music Theatre UK is busy auditioning talented young people aged 11-21 in 24 cities across the UK and Ireland. Having begun on 21 January, auditions will take place until 19 February, providing young people with the chance to join Youth Music Theatre UK and further their skills as young performers. Taking part in the organisation's work can do much for young people's skill set, performance and confidence. Youth Music Theatre UK alumni include Ed Sheeran, Sam Smith and Charlotte Ritchie, demonstrating how much it can provide.
Working alongside Youth Music Theatre UK could propel a young person far along their desired career path, if they have aims to enter the professional musical theatre industry. Youth Music Theatre UK is viewed by many as an invaluable resource for young people to take part in something engaging and rewarding, hugely beneficial for a young person, performer, and therefore young performer.
Auditions for the company do not require any previous experience. This year's auditions until February will see performers receive a three hour group workshop in improvisation, singing and dancing, led by top professionals. Aspiring to achieve just as the professionals have done means the young performers can form their own performance goals and ensure they achieve them.
Once part of the Youth Music Theatre UK company, young performers will be able to participate in an intensive, action-packed residential musical theatre course: as part of this they will work to develop a brand new show. They will have the chance to train with the very best directors, musical directors and choreographers, and develop their skills even further. The ultimate aim is therefore to play a part in one of eight new, full-scale musical shows. Youth Music Theatre UK's summer season includes the world première of the original 1960's rock opera A Teenage Opera; the tragic story of Tess of the d'Urbervilles; Gulliver's Travels; Jabberwocky, and many more.