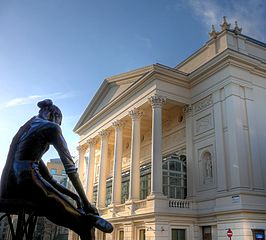 The Royal Opera House has just launched its Student Ambassador scheme, open to all students from across the UK and giving them, as Ambassadors, access to a whole host of exciting and exclusive benefits. The ROH has invited students from all over the UK to apply to be a Royal Opera House Student Ambassador for the coming academic year as an exciting new dance activity to engage with.
The ROH searched for passionate, creative and confident students who will advocate for the ROH at their universities this year as the first ever ROH Student Ambassadors. The ambassadors will promote exciting productions from the Main Stage, the Alternative programme and the ROH Cinema Season throughout the year by ensuring that the Royal Opera House is represented in the right places and at the right times on and around their universities. The ROH hopes that this will give all students access to world-class productions at the ROH, whether it be in London or at cinemas nationwide, pointe shoe clad or solely leotards.
The Ambassadors will receive access to discounted and complimentary tickets to ROH productions, a fascinating insight into the inner workings of one of the world's greatest opera houses, the opportunity to meet and network with other Ambassadors and arts professionals and the opportunity to get an insight into the ROH creative departments, in addition to the possibility of being awarded a week long work placement at the ROH in the summer of 2013. Successful applicants who will have been informed recently of their new positions will be able to start the scheme off by The Royal Ballet's Mixed Programme featuring Viscera, Infra and Fool's Paradise.
The Royal Opera House Student Standby scheme is generously made possible by the Bunting Family and the Robey Family.
Image courtesy of Wikimedia Commons.