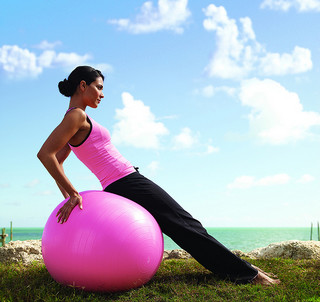 To enhance your lines, for a stronger body and an improved performance we have a range of essential dance accessories for the dancer eager to excel. However, it is vitally important to warm up properly to look after your body correctly, as it is the instrument with which to fulfil your dance desires… and if it is not cared for, it can be easily damaged.
Kitting yourself out in the latest dancewear, such as redesigned foot thongs and innovative leotards will not protect your body from the rigours of dance. Dancers wearing the newest jazz trainers and cover-ups must work hard to prolong their dance training and career using the right techniques and methods for their own body.
For example, the Original Deuserband is a classic, physio-therapeutical training band which is incredibly strong, working to flex muscles and increase fitness, strength and flexibility. Specifically for increased leg flexibility, the Deuserband is used worldwide by professional dancers as an aid to their training.
Latex resistance bands, such as those designed by Bunheads, are also used by dancers of all levels to target specific areas of the body that require strengthening. They are particularly useful for young dancers who are preparing for pointe work, and for exercise aiding injury recovery, displaying their ultimate versatility and usefulness.
An additional product which aids strength, and is also extremely useful for dancers preparing to wear pointe shoes is the Wobbleboard. It is also recommended by physiotherapists, working to strengthen the ankles to prevent injury.
Another versatile product is the Theraball, which targets all the major muscle groups for a full body workout, whilst aiding stretching and strengthening. Exercise balls of all sizes are renowned for their revolutionary design and purpose, often used for strengthening the core and upper body. In this essence, the Theraball is vital to maintain and dancing body's dynamics and prolong dance lives.
Image courtesy of adria.richards at Flickr.