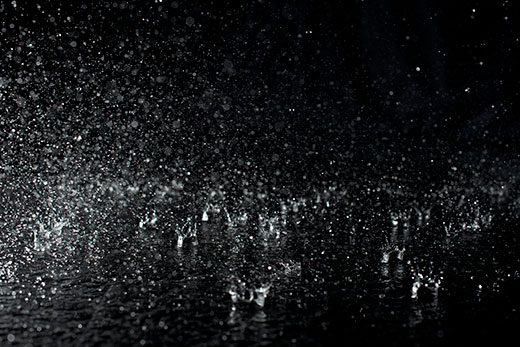 On Sunday 18 November, 2 December, 20 January 2013 and 24 February 2013, Wayne McGregor | Random Dance is set to perform in Rain Room at The Curve, Barbican Centre. Random International's acclaimed Rain Room installation in the  Curve gallery will be inhabited by dancers from Wayne McGregor | Random Dance, performing continuously evolving interventions in the Rain, with a score by contemporary composer Max Richter.
Known for their distinctive approach to digital-based contemporary art, Random International's experimental artworks come alive through audience interaction. Their largest and most ambitious installation yet, Rain Room is a 100square metre field of falling water for visitors to walk through and experience how it might feel to control the rain. On entering The Curve the visitor hears the sound of water and feels moisture in the air before discovering the thousands of falling droplets that respond to their presence and movement.
Wayne McGregor | Random Dance is part of Weekend Labs which are immersive arts workshops for adults, offering two full days of action and conversation with other interesting people at the Barbican. They give an opportunity to explore creative work in-depth though practical work in a range of international art forms with Weekend Labs giving a direct access to world class arts and learning programme. These events will build on a series of past collaborations between the award-winning choreographer McGregor and the acclaimed studio Random International, including Random International's Future Self (MADE, Berlin, April 2012) and Wayne McGregor | Random Dance's FAR which premiered at Sadler's Wells in November 2010. FAR is now touring nationally and internationally.
McGregor is a multi-award-winning British choreographer and director, internationally renowned for his physically testing choreography and groundbreaking collaborations across dance, film, music, visual art, technology and science. In addition to being Artistic Director of Wayne McGregor | Random Dance, he is also Resident Company at Sadler's Wells Theatre in London and Resident Choreographer of The Royal Ballet (appointed 2006).
Admission is free but audiences will be admitted on a first-come, first-served basis from the queue.
Photo © rAndom International, photography by James Harris.