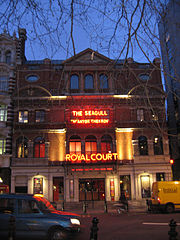 The Royal Court theatre and the Guardian newspaper are set to collaborate on a web-based play series. Directors, playwrights and journalists are all headed to collaborate on a new series of short plays, which will be available to watch online. Making these theatrical works more readily available to audiences all over increases the reach of the arts and puts it in greater stead for the long term.
To be named Off the Page, the collaboration between the Royal Court and the Guardian will begin with a piece which sees playwright Laura Wade and director Carrie Cracknell collaborate with food blogger Jack Monroe and Guardian social affairs correspondent Amelia Gentleman. The short play is named Britain Isn't Eating, and is available on theguardian.com starring Katherine Parkinson and Kyle Soller.
Subsequent short plays will cover topics such as music, fashion, politics, sport and education and are all around five minutes long. They will also feature actors including Rafe Spall and Tobias Menzies, alongside playwrights such as Chloe Moss and Tim Price, and directors including Christopher Haydon and Hamish Pirie. Guardian journalists taking part in the project also include Aditya Chakrabortty and Hadley Freeman.
For the Royal Court's artistic director Vicky Featherstone, the partnership between the Guardian and Royal Court is truly ground-breaking in its approach to producing theatre, and reflects the strengths and vision of each organisation involved. Playwrights and theatremakers are continuously looking for inspiration and new challenges to feed their work, and for Featherstone this is frequently found in the pages of newspapers.
The collaborations between the Guardian and Royal Court theatre look set to be innovative, entertaining and inspiring with lots feeding in to each short work.
Image courtesy of Wikimedia Commons.