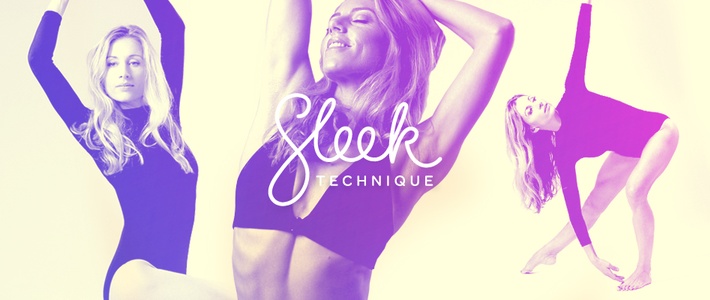 Sleek Technique, an online, ballet based, fitness programme, has been designed by two professional dancers as accessible dance-fitness programme for everyone. The live classes can be downloaded "on the go" and include authentic barre techniques and ballet bootcamps, as well as downloadable sculpting workouts delivered direct to computers, tablets and mobiles.
The technique prides itself on fitting in with busy lifestyles in order to create and maintain beautifully shaped bodies whenever and wherever you are. Sleek is an entirely portable fitness methodology, perfected for non-dancers by Birmingham Royal Ballet's professional ballerina and fitness coach Victoria Marr and West End dancer Flik Swan. It combines elements of classical ballet technique and conditioning exercises used by the professionals to sculpt their lean, dancer bodies. The Body Beautiful workouts are delivered live online or are available to download to start transforming shapes, and with a maximum of 5 people in each live class, the founders are able to monitor technique to make sure participants get the most out of every session.
Sleek Technique combines the dancers' knowledge on which exercises really give a toned and slender body, and the girls are always ready to help transform and aid progress. Sleek uses multi functional dance based exercises which condition and tone muscles whilst improving co-ordination, posture and stamina. These are combined with isolated isometric exercises which work to sculpt individual muscle groups. Sleek Technique is low impact and easy on joints, but high intensity to strengthen muscular structure. Stretching out each muscle group as it is worked then ensures longer, leaner, dancer like muscles are created with no bulk, to show off beautiful lines with curves in the right places.